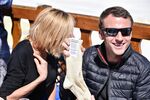 Marine who?
Emmanuel Macron's year-old political party has just won a handsome majority in the French parliament, a month after the centrist ex-banker became the country's youngest president.
Of course, as Britain's Theresa May will attest, things can turn ugly very quickly in politics. It's disturbing to think what might happen in France should Macron fail to deliver on his early promise. But, for now at least, his ascendancy looks good for the shareholders and CEOs betting on a sorely needed shakeup of the French labor market. The country should find it easier to attract investment as a result.
There will doubtless be skepticism about whether change will actually happen. After all, this is France we're talking about. But provided a broader economic recovery holds up, and investors recognize this is a gradual catch-up rather than a radical overhaul, Macronomics deserves a fair try.
The financial market reaction to Macron's victory shows faith that he can convert parliamentary dominance into faster profit growth and a more robust economy. French blue chips outperformed broader European stocks on Monday, with carmakers, engineers and financial firms among the top gainers. The cost of insuring against a French sovereign debt default fell to its lowest since 2009. France's country-risk premium as tracked by Bloomberg data has fallen to about 8.5 percent from about 10 percent a year ago.

Macron, who's been mocked for his Zeus-like political style, is certainly attracting boardroom worshippers. French CEOs, desperate to loosen the shackles of French worker protections, are lining up to praise the reform agenda.
One Paris investment banker says business is getting busy again after a prolonged period of angst. Equity fund managers specializing in Europe now see France as their preferred investment destination, even ahead of Germany, according to a Bank of America survey. Brexit-exposed Britain is bottom of the class.
The brightening mood is natural. A disappointing voter turnout shows the dangers if Macron doesn't deliver, but he could hardly have a stronger hand given the majority he commands. That should make it easier to fast-track reforms, including more flexibility on company hiring and firing.
His campaign also promised cuts to corporate tax and wage costs. Lower taxes could lift French company earnings by 12 percent, while a reduction in labor costs could lift pretax profit by up to 11 percent for blue chips, according to Kepler. That's on top of an earnings recovery already taking place in Europe and France.

While there's always the threat of protests, the plans were well-telegraphed and so have a mandate from voters. This was less the case with predecessor Francois Hollande's reforms. That should improve Macron's chances, says Bloomberg Intelligence's Maxime Sbaihi, even if the economic pain is felt before the gains kick in.
It's important to remember, though, that everyone's luck runs out and even someone as charmed as Macron has only limited control over events.
Indeed, it was that broader economic recovery that arguably swept Macron to power. And while Morgan Stanley expects French GDP growth to outpace Italy and the U.K. in 2018, it will lag Germany, Spain, Portugal and Ireland. Meanwhile, French unemployment may keep creeping downwards but will probably stay above 9 percent for the next few years.

Finally, pushing through crucial eurozone reforms needs German support.
Macron's victory has put the brakes, for now, on a populist Eurosceptic wave and laid the groundwork for achievable reform. But delivering his spending promises while cutting France's heavy social costs would be tough for any politician, let alone an untested one.
Before it's here, it's on the Bloomberg Terminal.
LEARN MORE