Bull Market in Tech Stock Acronyms Reaches Perplexing Heights
By
From FANG, to FAAMG (and FAAMA), to FANTASY amid tech rally

Goldman Sachs, JPMorgan, Citi strategists turn to abbreviation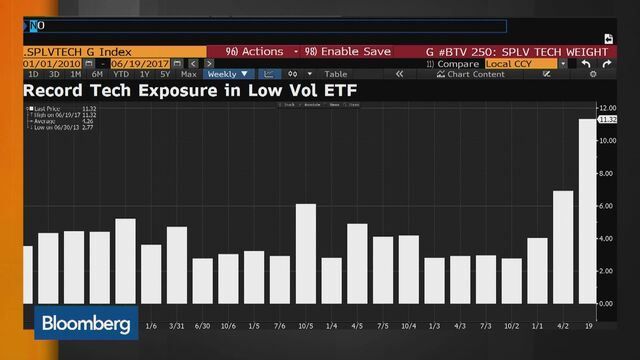 ICYMI, a small number of IT companies have played a big role in pushing U.S. stocks to ATHs. And Wall Street is responding with a bull market in acronyms.
This craze started with FANG -- Facebook, Amazon, Netflix, and Google -- the core four tech titans popularized by CNBC's Jim Cramer in early 2013. He's since moved on to the FAAA group -- rebranding Google in accordance with its parent company, Alphabet, and substituting Alibaba for Netflix.

Recently, Goldman Sachs global chief investment officer Robert Boroujerdi warned of the extremely subdued volatility that accompanied the rally in the FAAMG quintet -- adding Microsoft and Apple into the mix while removing Netflix -- in a note that proved to be the prelude to the recent tumult in tech stocks. Following the pullback, JPMorgan Chase head of U.S. equity strategy Dubravko Lakos-Bujas provided a list of "FAAMA-like" stocks investors might want to consider -- so much for the Fama-French value factor.
(Those five are the same but with Google rebranded as Alphabet -- so FAAMG is aka FAAMA, for those trying to keep up.)

It's fitting the current explosion of acronyms in financial markets is linked to the outperformance of the tech sector, given the plethora of initialism associated with computer programming and usage.  AHDL or DHTML, anyone?
AFAIK, acronyms predate the English language itself, and they're not new to the realm of finance -- just look at the BRICs. But it's the WWW that facilitated their parabolic growth to use in everyday speech and, apparently, sell-side research. Blame the character-constrained online environments; or perhaps millennials who spend all day on their cell phones and can't be bothered to read or type things in full.
Tobias Levkovich, chief U.S. equity strategist at Citigroup, pulled out a couple acronyms of his own to make the case for what he calls the FANTASY group -- Facebook, Amazon, Nvidia, Tesla, Alphabet, Salesforce.com and Yahoo.
"The fundamentals of social media, AI, VR/AR and cyber security, to name a few areas, are impressive," he wrote in a note to clients Monday. "Extended P/E ratios reflect optimism and one cannot suggest growth expectations are not 'baked in' already."
Bloomberg columnist Dave Wilson, however, proceeded to throw a bit of cold water on Levkovich's flight of fancy, pointing out that Yahoo is now owned by Verizon -- before one-upping it with FANTASIA -- which includes Intel and Apple.
Members of finance twitter have also joined in the fun, coming up with acronyms of their own to demarcate the outperformers.

TL;DR: IDK if it's useful for PnLs, but everyone in markets is scrambling for the shortest, cleverest way possible to define the tech leaders. TBC…
Before it's here, it's on the Bloomberg Terminal.
LEARN MORE