Brazil Senate Committee Rejects Labor Bill in Blow to Temer
By and
Ten committee members vote against measure; 9 vote in favor

Decision prompted local currency, stock market to sink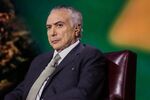 A Brazilian Senate committee rejected a government-sponsored bill aimed at loosening decades-old labor laws in a blow to the country's already embattled President Michel Temer.
The Senate's Social Affairs Committee on Tuesday rejected the proposal, which prioritizes direct negotiations between workers and employers over existing labor regulations, with ten votes against and nine in favor. The decision sent Brazil's benchmark stock exchange lower as the real plunged to a one-month low before paring some of the losses.
While the vote does not kill the bill, it signals the fragility of Temer's political base. The president is struggling to maintain legislative support and advance an ambitious market-friendly reform agenda amid allegations of corruption and obstruction of justice. A police report sent to the Supreme Court on Monday and made public on Tuesday evening says that Temer and a close aide committed the crime of corruption.
The labor proposal, which also relaxes the rules for holidays and overtime, now goes to the upper house's Constitution and Justice Committee, then to a plenary session. A preliminary survey by Arko Advice found that 15 of the committee's members are in favor of the bill, ten against and two are undecided, according to a tweet by Thiago de Aragao, a partner at the political consultancy.
The government remains certain it has the votes to push through the legislation. "It will be approved in a floor vote easily," Temer said to reporters in Russia, where the president is on an official visit. "What matters is the plenary."
Eliseu Padilha, the administration's chief of staff, told Bloomberg the defeat was a minor setback, but that the result would eventually be reversed.
Confident of victory in the committee, the Temer administration miscalculated the number of lawmakers opposed to the bill in attendance, according to a person involved in the government's legislative strategy who requested to remain anonymous because the information isn't public.
"The result is very bad," said Andre Cesar, a Brasilia-based independent political analyst. "The vote shows government weakness at a time when it is badly in need of good news. Temer will need to make even more concessions to secure its approval."

Supporters of the labor bill, which passed the lower house in April, say it would help generate jobs and reduce labor disputes, while critics say it would weaken workers' rights.
"The government isn't going to be able to approve anything," said Senator Lindbergh Farias, leader of the opposition Workers' Party in the upper house. "The bill is discredited as it heads to the Constitution and Justice Committee."
— With assistance by Priscilla Murphy, Maria Luiza Rabello, and Ney Hayashi Cruz
Before it's here, it's on the Bloomberg Terminal.
LEARN MORE