Boeing Overwhelms Airbus as Asian Customers Seek Stretched 737
By , , and
Airlines, lessors expand as Asian middle class travels more

Orders look set to revive from six-year low at 2016 air show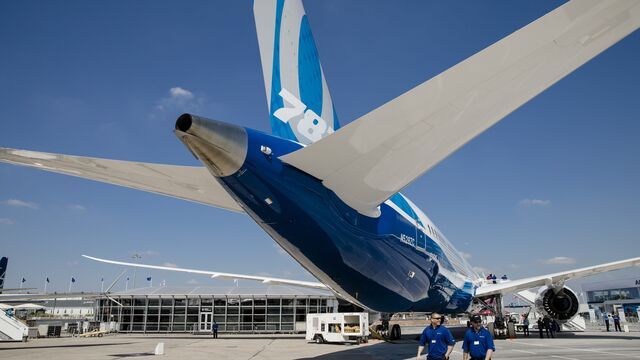 Boeing Co. dominated the deal flow at the Paris Air Show, overwhelming rival Airbus SE on the back of Asian demand for the new Max 10, the biggest version of its 737 workhorse.
The U.S. planemaker secured orders and expressions of interest for about 350 jets worth as much as $48 billion as of Wednesday morning, compared with Airbus's tally of 229 airliners for about $24 billion. While both manufacturers have more sales contracts in store, Airbus has basically conceded the race this year, saying it's focusing on meeting delivery targets to make up for production snags rather than seeking new purchasers.
Boeing's single-aisle 737 Max 10, rolled out to combat Airbus's hot-selling A321neo, has secured 256 commitments, including conversions of existing orders. While many deals were tentative, the overall haul surpassed the total $50 billion signed at the 2016 show in Farnborough, England, which was the lowest figure since 2010. Asian purchasers were particularly active as they gird for an accelerating travel boom. That's a contrast to the relatively restrained buying from crowded markets in the U.S. and Europe.
"We have never seen a demographic shift like that ever in the world, in terms of the scale but also the purchasing power," Domhnal Slattery, chief executive officer of Avolon, said after the world's third-largest lessor ordered $8.4 billion of Boeing planes. "We're backing that global trend."
The leasing company, now owned by Beijing-based Bohai Capital Holding Co., was joined by other Asian buyers of Boeing planes, including SpiceJet Ltd. of India, Chinese carrier Okay Airways Co. Ltd., Japan Investment Adviser Co. and BOC Aviation Ltd. The leasing arm of China Development Bank signed agreements to buy planes from both Airbus and Boeing.
Airbus Backlog
Airbus's backlog has more than doubled in two years to in excess of 6,700 airliners, and, instead of pushing for more new orders, the company's priority is to speed up deliveries following production snags on the A320neo series and wide-body A350, Fabrice Bregier, the manufacturer's chief operating officer, told investors at a conference on Wednesday. The Toulouse, France-based company still plans to hand over about 30 more planes to customers this year than in 2016, which means the company will need to accelerate work in the second half, he said.
Avolon decided to lock in deliveries of as many as 125 of upgraded Boeing narrow-body jets because production slots are "very valuable real estate," Slattery said. The Max family of planes is oversold through 2020, and capacity is finite for the model favored by budget carriers, Slattery said in an interview. He projects the middle class in Asia to eventually swell by more than 1 billion people in the coming years.
"These people are going to get on planes," said Slattery. "And there's no going back."
Boeing said demand for single-aisle models as well as wide-bodies remains buoyant, despite concerns about economic and political turbulence in the Middle East and low fuel prices serving as disincentive to invest in more efficient aircraft.
Marketplace 'Energy'
"We are continuing to see strong energy in the marketplace," said Boeing Chief Executive Officer Dennis Muilenburg, predicting that new orders should roughly match deliveries this year. "I think there's a little upside here this week" at the Paris show.
The Max 10, the first new model from Chicago-based Boeing since the 777X series was unveiled at the Dubai Air Show in 2013, will be 5 1/2 feet (1.68 meters) longer than the $119.2 million Max 9, currently the biggest member of the re-engined 737 family, which was launched in 2011. 
With numerous conversions among the Max 10 orders, "that wouldn't qualify as a launch as far as we're concerned," said Airbus sales chief John Leahy, who earlier quipped that the plane's biggest competitor is the sister Max 9. "Let's talk about the actual incremental orders they've got, and I think our numbers are looking pretty good. But you can't go home early."
Before it's here, it's on the Bloomberg Terminal.
LEARN MORE