politics
Singapore Premier Lee Will Address Family Feud in July 3 Speech
By
Lee Hsien Loong apologizes to nation after quarrel made public

Regrets dispute he says has affected Singapore's reputation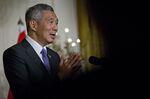 Singapore Prime Minister Lee Hsien Loong apologized after a family dispute with his two siblings over their late father's estate spilled back into the public sphere, pledging to address parliament next month on the matter.
"I deeply regret that this dispute has affected Singapore's reputation and Singaporeans' confidence in the government," Lee, 65, said late Monday in a statement. "As your Prime Minister, I apologize to you for this."
Lee said he will in his speech to parliament on July 3 refute the charges leveled against him by his brother, Lee Hsien Yang, and sister, Lee Wei Ling. The two issued a joint six-page letter on Facebook last week saying they had "lost confidence" in their brother and no longer trusted him.
The siblings accused their elder brother of misusing his position to advance his personal agenda. Lee Hsien Yang said he planned to leave Singapore "for the foreseeable future" and cited his brother as the factor.
Their father Lee Kuan Yew was prime minister from 1959 to 1990, turning Singapore into Southeast Asia's richest nation by opening the island to foreign investors. He ran a tightly controlled state that emphasized incorruptibility and stability.
Prime Minister Lee promised to fully address all matters surrounding the house situated near Singapore's Orchard Road shopping district that belonged to his late father. The siblings have had a simmering dispute over Lee Kuan Yew's estate since his death in 2015.
"I hope that this full, public airing in parliament will dispel any doubts that have been planted and strengthen confidence in our institutions and our system of government," Lee said.
Before it's here, it's on the Bloomberg Terminal.
LEARN MORE