Game Changer
The 'Alt-Labor' Leader Fighting for Fair Pay for Restaurant Workers
Saru Jayaraman has built ROC into a successful advocate for low-wage workers.
By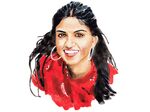 After Sept. 11, the surviving employees of Windows on the World, the 107th-floor restaurant destroyed in the World Trade Center attacks, needed an advocate. Union organizers who'd represented the workers recruited Saru Jayaraman, then a 26-year-old Yale Law School graduate, to help start a group to support employees in the absence of a contract. Her organization, which she called the Restaurant Opportunities Center (ROC), soon faced a big test: The company that had managed Windows was starting an eatery but rejecting the majority of former Windows staffers who applied for jobs.
It reminded Jayaraman of her experience as a high school student in Southern California, when a teacher suggested that the best she and her mostly low-income Latino classmates could aspire to was community college or pregnancy. Jayaraman organized a protest at the restaurant's red-carpet opening—a move so embarrassing the manager caved and doubled the number of ex-Windows people on staff. "To say to a group of workers—mostly people of color who lost family members and livelihoods in your restaurant—that they didn't have the experience to work in your new nightclub was just outrageous," she says.
The group went national in 2008. Now with 25,000 members, Restaurant Opportunities Centers United has proved to be one of the most successful experiments in advocating for low-wage workers in the absence of a traditional union. ROC members don't collectively bargain with restaurants—but they've successfully lobbied for laws resulting in higher pay. And through offensives blending lawsuits, demonstrations, and media stunts, they've won settlements requiring companies to offer grievance procedures, paid sick days, and other protections. As "alt-labor" groups have proliferated, ROC has provided a template to follow.
"Watching Saru, she's got all of these incredibly innovative strategies in her portfolio," says Janice Fine, a labor expert at Rutgers University. "It's like when you watch a great ice skater doing just one really impressive move after another." The group's "One Fair Wage" push, which seeks to guarantee tipped workers the same protections as everyone else, won a big ally in 2015 when Danny Meyer, Union Square Hospitality Group's chief executive officer, embraced the cause after meeting with Jayaraman. She had a novel argument: Dependence on tips exacerbates sexual harassment. "Your wages are primarily coming from the customer, and you have no choice—you have to put up with it," she says. Last year, California legislators passed a $15 minimum wage law, and Maine voters approved an increase to $12 an hour, with tipped workers included in both measures.
Jayaraman's approach has earned her plenty of enemies. Leaked internal memos in 2014 revealed that the National Restaurant Association, an industry business group, was tracking stops on her book tour and the status of her Wikipedia page. "It's definitely a badge of honor," Jayaraman says. Some of ROC's former targets, however, have pledged to work with the group. "You have to create consequences for taking the low road and then embrace anybody who decides to take the high road," she says. "Just as I'm better than the worst thing that I've ever done, so is every employer."
Before it's here, it's on the Bloomberg Terminal.
LEARN MORE