Media-Shy Tencent Billionaire Joins Debate on Hong Kong's Future
By
Tencent's Pony Ma plugs vision for China's Silicon Valley

Conference held ahead of handover's 20th anniversary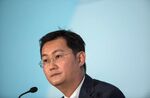 One of China's most prominent internet tycoons is wading into a famously contentious political arena.
In an unusual move, Tencent Holdings Ltd.'s billionaire founder Pony Ma has chosen to convene a summit of government officials and business chieftains in Hong Kong days before the 20th anniversary of its return to China. The head of the country's biggest corporation wants to fire up a debate about an issue that's fomented protests and fears about Beijing's agenda: how to entwine the self-run former British colony with the mainland.
This July 1 -- a lightning-rod for anti-Chinese demonstrations as well as patriotic displays -- marks the first time Chinese President Xi Jinping will visit the city since taking office. The normally publicity-shy Ma has chosen this juncture to again tout his proposal of setting up a Silicon Valley-like haven for technology and innovation linking Hong Kong and Macau with the southern province of Guangdong, Tencent's home base.
Tuesday's conference thrusts influential Chinese business people and investors alongside some of the Hong Kong property moguls that dominate the local economy. In one camp: Ma, Hillhouse Capital CEO Zhang Lei and Wang Wei, China's fourth richest man; in the other, New World Development Co. vice chairman Adrian Cheng and Henderson China Chairman Peter Lee. It will feature discussions on the "one country, two systems" framework that underpins Hong Kong's autonomy -- an assurance some critics say is increasingly under threat.
"Our Greater Bay Area is different in one big way from other Bay Areas: we have one-country two-systems," Ma told hundreds of people including government officials, academics and investors. "We have more than 100 years of segregation and now we are entwining."
"One of the biggest challenges is that young people nowadays aren't necessarily familiar with each other," he said. "There are rifts, some are recalcitrant and don't want to open their hearts."
A QuickTake on How Chinese Rule Has Changed Hong Kong Since 1997
Temperatures tend to run high around July 1 in a city where opinions run the gamut from a need for total self-determination to full acceptance of central control. Ma risks stirring such sentiments at a time observers have grown increasingly concerned about Beijing's influence over business and local government. Alibaba Group Holding Ltd. co-founder Jack Ma's acquisition of the South China Morning Post last year ignited a debate about Chinese control of the city's media.
Proposals to unify the Pearl River Delta have already run into resistance: critics say initial plans for Hong Kong and mainland Chinese immigration and customs officials to share locations -- to speed border crossings -- violates the one-country two-systems framework. But the same ideas that provoke outrage in some can arouse the enthusiasm of others. On Tuesday, Otto Lin, a professor with Hong Kong Polytechnic University, proposed onstage that all border controls within the region be eradicated. The conference hall erupted in applause.
"The typical move is just to keep your head down ahead of July 1 and the Party Congress," said Andy Mok, managing director for Beijing-based internet consultancy Red Pagoda Resources, referring to a leadership reshuffle later this year. "It could be that Tencent sees this as an internal strategic move to strengthen its dominance in gaming, finance, and it also creates a symbolic meaning of leadership," he said, calling Ma's effort "a bold move."
Ma's emergence into the spotlight is highly unusual for a Chinese entrepreneur who shuns media appearances and interviews. He graces at most a couple high-profile events a year, at which he consistently refrains from extensive public pronouncements. It reflects how a new generation of Chinese tech tycoons are fast becoming de-facto ambassadors for their country. Jack Ma is among the most assured of his cohort, jetting around the world to plug his vision of helping small businesses thrive.
Xi has identified the internet as one of the most important sectors for official oversight. He's reminded the country's technology parvenus to "demonstrate positive energy in purifying cyberspace" and called for regular contact with new media representatives to build support for the party's agenda.
Pony Ma's own company is best known for social media phenomenon WeChat, a service that helps 900 million-plus users with everything from messaging and gaming to ordering food. The conglomerate built around it now runs news portals, Hollywood movie production and distribution, online book stores and games including Clash of Clans. Ma is China's third richest man with a net worth of $28.5 billion.
Ma first publicly outlined his vision of a Chinese "Bay Area" during an annual March legislative meeting in Beijing. While details remain vague, his suggestion has now been written into China's government work report, and broaches the idea of twinning Hong Kong's capital and financial muscle with the manufacturing prowess of Shenzhen and the Pearl River Delta region. Ma said that could help "the long-term stability and prosperity of Hong Kong and Macau."
On Tuesday, Ma urged China's government to enact tax- and immigration-friendly policies that make it easier to attract highly skilled workers, by letting them move freely across the border and enjoy tax benefits.
Hong Kong routinely ranks among the world's top business destinations but is facing competition from Chinese cities such as Beijing and Shanghai. Hong Kong's share of Chinese gross domestic product has fallen to about 3 percent from about 18 percent since the British handover 20 years ago.
As property prices soar to world-beating levels and Wall Street banks get crowded out of local initial public offerings, Hong Kong's leaders point to technological innovation as a way to catalyze growth. It's unclear how Ma's vision complements that of the city's own government, which has proposed an 87-hectare park built on swamp land to incubate future tech giants. The idea is that tenants would be close to Shenzhen's cheaper manufacturing and innovation, while retaining Hong Kong's legal and business framework and internet freedom, with eased border crossings between the two.
Read more: Hong Kong Cozies Up to Shenzhen in Border Swamp to Lure Startups
Both grand plans compete with at least 120 so-called tech zones now getting drawn up in regions from Beijing to eastern Hangzhou, all hoping to forge China's equivalent of Silicon Valley. And all are vying for talent and capital.
Ma's Bay Area project "potentially will help with stability, if you look at Silicon Valley as an example, where you create it as base to attract talent and capital from all around the world," Mok said. "And it gives you a lot more resources to work with."
Quotes from this Article
Before it's here, it's on the Bloomberg Terminal.
LEARN MORE