politics
Ramadan Worshippers Targeted in London Mosque Terror Attack
By , , and
Ten people injured after van hits pedestrians outside mosque

Attack latest in country already traumatized by incidents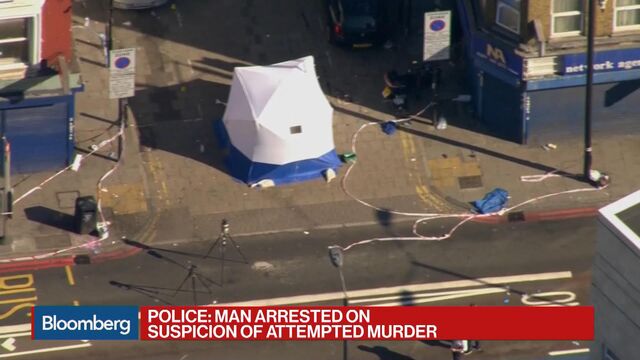 U.K. police launched their fourth major terrorism investigation in three months after a van plowed into a crowd gathered near a mosque in a northern neighborhood of the capital.
A man being treated for a medical condition at the time of the attack later died. Ten people were injured, all of them Muslims. The assault occurred shortly after midnight as worshipers left Finsbury Park mosque following late-night prayers during the holy month of Ramadan. The driver, a 48-year-old white man, was detained by members of the public before being arrested for attempted murder and later on terrorist offenses, London police said.
"Hatred and evil of this kind will never succeed," Prime Minister Theresa May said outside 10 Downing Street. London police declared it a terrorist incident within eight minutes of the first call to emergency services, she said.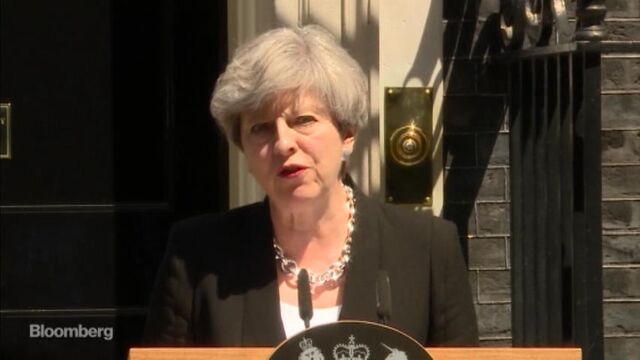 The attack on the Muslim community was "every bit as insidious and destructive to our values and our way of life" as the earlier terrorist attacks across the U.K., which were claimed by Islamic State. "We will stop at nothing to defeat it."
The atrocity adds to the challenges facing May after two knife-and-vehicle attacks in the capital and a suicide bombing in Manchester exposed vulnerabilities in public security. Officers are being brought back from leave to increase the police presence across the city, London Mayor Sadiq Khan told reporters at the scene on Monday. He renewed calls on May to address policing cuts, saying he was concerned about the resources available.
Mounting Challenges
The prime minister is also dealing with the beginning of Brexit talks, an unstable government following this month's election and the fallout from a devastating tower-block fire. May called a meeting of her emergency Cobra committee on Monday to discuss the terror threat. In a sign that she had taken on board criticism of her handling of the Grenfell Tower fire, she then went to the Finsbury Park mosque, meeting religious leaders of different faiths.
Inquiries are continuing to establish the exact circumstances of the man's death. Deputy Assistant Commissioner Neil Basu told reporters in London on Monday that eight of the wounded required hospital treatment, with two of them injured "very seriously." The Counter-Terrorism Command is leading the investigation, according to the police statement, which said no other suspects at the scene were identified.
The incident has shed light on an alarming rise in anti-Muslim crimes since the terrorist attacks in London and Manchester. London police said that on June 6 there were 20 anti-Muslim hate crimes recorded compared with a daily average of 3.5.
Hate Crimes
Outside the Finsbury Park tube station, people were standing in small groups on Monday morning, several of whom had been present during the attack and hadn't been to bed since. Faith leaders told assembled journalists that now is the time for all Londoners to come together.
"No one feels safe; no one," said Hitesh Shah, 46, an optician who works opposite the mosque. "People are just praying, doing their own thing and then this happens. You could be walking down the street and someone could come driving down right now, who knows."
The Finsbury Park mosque was opened in 1994 to serve the growing Muslim community in the area. It became the focus of several counter-terror operations years ago as extremist preachers including Abu Hamza al-Masri were linked to the mosque. London police raided it and shut it down in 2003, but it reopened two years later under new management, launching a campaign to show Islam won't tolerate terrorism.
It was "a cowardly attack which is no different than the attacks in Manchester and London," the mosque's chairman, Mohammed Kozbar, said in a statement. "Our community is in shock, our thoughts and prayer are with those who have been affected by this."
Opposition Labour Party leader Jeremy Corbyn, who represents the district in Parliament, said in a statement that he and Islington Council leader Richard Watts met with Muslim community leaders and will attend prayers at the mosque later on Monday.
Sultan Ahmed, 34, who worships at the mosque, said his uncle was among the crowd outside when a member of the congregation fell to the ground unwell. The van struck as he and others were helping the man.
The attack is "a reminder that terrorism, extremism and hatred take many forms," May said. "Our determination to tackle them must be the same whoever is responsible."
In March, an attacker plowed through pedestrians on Westminster Bridge before stabbing to death a policeman inside the gates of Parliament. A suicide bomber last month attacked a pop concert in the northern city of Manchester, killing 22 people, including children. And in the days before the June 8 election, several people died and dozens were injured when a van drove into pedestrians on London Bridge before three men embarked on a stabbing spree. All three attacks were carried out by Islamist extremists.
Under Pressure
The incident at Finsbury Park mosque "would appear to have been a revenge attack," Labour's trade spokesman, Barry Gardiner, told BBC TV. "That's precisely the objective of terrorists: they want to divide us."
While May is dealing with the fallout from the latest attack, Brexit Secretary David Davis is in Brussels to begin talks to pull Britain out of the European Union. Domestically, May is trying to finalize a deal with Northern Ireland's Democratic Unionist Party to secure the support she needs to govern after unexpectedly losing her majority in election.
"Terrorists will not succeed in their attempts to divide us and make us live in fear," said Cressida Dick, the city's most senior police officer. "London is a city of many faiths and many nationalities. An attack on one community is an attack on all of us."
— With assistance by John Fraher, Daniel Ten Kate, and Thomas Seal
(
Updates with arrest in second parapgraph.
)
Before it's here, it's on the Bloomberg Terminal.
LEARN MORE