Macron Generation Sweeps Out French Old Guard Promising Change
By
President's party leads transformation of National Assembly

LREM lawmakers include entrepreneurs, academics, technologists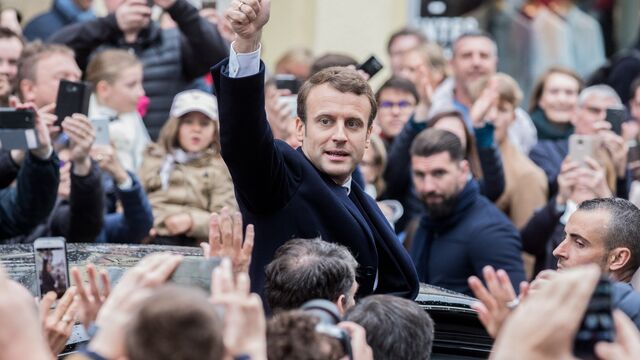 In 16 years since leaving university, Olivia Gregoire advised the French and Peruvian governments on health care, created her own marketing firm, and got to know the inside of job centers and labor courts when the euro crisis left her unemployed.
On Monday she starts a new career as a lawmaker representing a middle-class district of Paris for President Emmanuel Macron's political movement Republic on the Move, or LREM. She says she's not at all worried that she doesn't know how things are done in the French National Assembly's 18th-century home in the Palais Bourbon.

"I've never heard of anyone who went to university to study how to be a member of parliament," the 38-year-old Gregoire said last week during a break in campaigning at a Paris street market. "I'll be bringing real experience to the things I'll be voting on."
Macron, 39, demanded that at least half of his party's candidates in the parliamentary election be new to elected office, a signal to voters he intends to make good on his pledge to shake up the political system. While his opponents warned that electing an army of lawmakers unschooled in parliamentary procedure risked dysfunction in the legislature, voters embraced Macron's movement.
Mathematician, Entrepreneur
Sunday's second and decisive round of voting saw LREM and its allies win 350 of the 577 seats in the National Assembly, the biggest majority in 15 years, albeit amid record-low turnout. Gregoire defeated Philippe Goujon from the center-right Republican party -- a man who has held elected positions since she was four years old -- by 56 percent to 44 percent.
Other LREM lawmakers elected Sunday to represent Paris include a solar-panel entrepreneur, a business journalist, a lawyer, and a computer programmer. Cedric Villani, who won the prestigious Fields Medal for math in 2010, will be representing a district south of Paris. Typhanie Degois, a 24-year-old who just earned a university degree in international affairs, narrowly defeated an incumbent who had held a circumscription in the Alps for 20 years.
"I have serious doubts about their ability to be members of parliament," Julien Dray, a former spokesman for the Socialist Party, said June 16 on BFM TV. "It's not nothing being a deputy. It's not something that you improvise. We are going to have some unpleasant surprises."
Government spokesman Christophe Castaner has said REM will provide training for its new deputies, though hasn't given any details. Journal du Dimanche said the new deputies will have to attend a two-day seminar next weekend.
"LREM will work for the greatest integration for these new members," he said June 8 on BFM. "They will have some technical difficulties, after all, after five years in parliament I can't answer all the questions. But I don't think it's a problem to bring in people with experience in the world of business, of culture."
'Re-energize Politics'
Anne-Marie Idrac, a former trade minister in a center-right government and a deputy from 1997 to 2002, said learning the ropes of how laws and debates are handled in the National Assembly isn't particularly difficult. More challenging will be understanding the lawmaker's role and how it relates to the government.
"Those who come from the business world will have to learn that it's not a decision-making executive position, it's a collective body of deliberation," said Idrac, 65, who is now president of Toulouse Airport and a board member at Total SA and Bouygues SA. "I'm not going to say all will be easy and all will turn out to be wonderfully perfect deputies, but it's a chance to re-energize French politics."
Gregoire said the party, as of last week, hadn't told her and other candidates what was planned for them after the election because they didn't want to act as if victory was in the bag. Parliament's first session is June 27.
"We will learn the ropes just like all the other doctors, lawyers, and engineers did before us," said Gregoire. "There may be more of us from civil society, but we are hardly the first."
'The Old Ones Cheated'
Gregoire met Macron at Paris' Sciences Po institute, from where they both graduated in 2001. She said she didn't know him well at the time.
"I was into partying, and we used to throw great parties," she said. "We'd invite him, but he never came. He was there to work."
She went straight into the workforce after graduating while he went to France's elite ENA school for civil servants, but she did keep in touch over the years via classmates. She joined his nascent political movement in March 2016, a month before it was officially launched, and helped work on the movement's health-care platform.
Her varied career has also included stints at public relations firms and preparing the IPO of an industrial company -- ultimately derailed by the financial crisis -- roles she's combined with looking after her wheelchair-bound father.
Campaigning at the Paris street market, she fielded questions from voters varying from access to pensions to how to deal with terrorism. Anne-Marie Louvet, an 92-year-old, said she's lived in the neighborhood since 1945 and has five kids, 16 grandchildren, and 14 great-grandchildren. She came up to offer her support.
"We need a change," Louvet said. "The old ones cheated. You won't cheat, will you?"
Before it's here, it's on the Bloomberg Terminal.
LEARN MORE