Investors Extend Greek Bond Bets as Confidence Rises on Bailout
By and
Creditors approve $8.5 billion euros, spurring rally in debt

Yields very attractive compared to euro-zone assets: Citigroup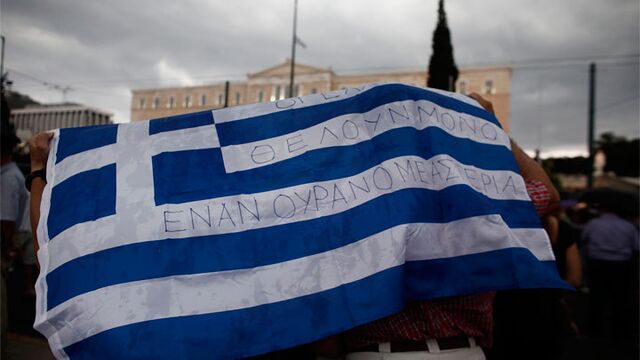 Investors are extending the maturity of Greek bond holdings as they become more sanguine about the nation's prospects after its creditors agreed a bailout deal.
The latest agreement by euro-zone finance ministers ended months of speculation over whether Greece would meet large bond payments due in July and spurred a rally in the country's debt on Friday. PGIM Fixed Income and Greylock Capital Mgmt LLC are looking at moving investment further down the Greek bond curve, while Citigroup Inc. sees yields as "very attractive" in comparison to other regional assets.

"If things go well, there's a lot of upside," said Mike Collins, senior investment officer at PGIM, which already owns some of the country's short-dated bonds. "As we lose exposure to front-end Greece, we're looking at other opportunities to maybe add back some of the exposure in longer maturities."
Greylock, which invests in undervalued, distressed and high-yield assets, used the recent price action to exit the short end, and switch to longer maturities of Greek bonds and bank stocks. "What was announced clearly favors those trades," Diego Ferro, its New-York based co-chief investment officer, said in emailed comments. 
The new loans at the Eurogroup meeting in Luxembourg totaled 8.5 billion euros ($9.5 billion), predicated on a 2 percent primary surplus from 2023 until 2060. The International Monetary Fund will hold off on more loans until it receives assurances that Greece's 315-billion-euro debt -- the biggest in Europe as a percentage of gross domestic product -- will become sustainable. That would require some debt relief.
Since the financial crisis, Greece has been Europe's laggard with constant doubts over whether the country would be able to meet its debt obligations. The recent rally comes amid a brightening picture for the rest of Europe too, with the European Central Bank slowly moving toward tapering its extraordinary package of stimulus measures, while political risk has largely dissipated since the French and Dutch elections.
Scant Trading
Greek 10-year yields were little changed on Monday at 5.69 percent, close to their lowest in a month. For Citigroup's London-based head of European bond trading Zoeb Sachee, that still compares favorably. Portuguese and Italian bond yields are at about 2.89 percent and 1.95 percent respectively.
"You can't rule out Greece being able to access the bond market again in due course," Sachee said in emailed comments. "I anticipate an increase in foreign demand for Greek bonds."
Still, trading in Greek government securities remains scant. Bank of Greece data show that turnover on the electronic secondary securities market, or HDAT, totaled 6 million euros this month through June 9, compared with 104 million euros in May. That's down from a peak of 136 billion euros in September 2004, while the annual volume of 519 million euros last year was the lowest since at least 2001.
This is due to those holding Greek debt being unwilling to trim their positions, according to two bond traders in Athens, who asked not to be identified because the people aren't authorized to speak publicly. While there is significant interest to buy bonds across the curve, supply is minimal, particularly in the front-end. Offshore accounts trying to buy report they have not been shown a price at times, as no-one is looking to sell, they added.
"It is in everyone's interest that Greece returns to the bond markets before summer 2018 to avoid a fourth bailout package," Carsten Hesse, a London-based economist at Berenberg, said in emailed comments. It is "likely that Greek bond yields will fall further and narrow the gap with Portuguese or Cypriot bond yields."
Before it's here, it's on the Bloomberg Terminal.
LEARN MORE