Germany's Biggest Steelmaker Set to Unveil a Future Beyond Steel
By
Thyssenkrupp seeks to transform itself with elevator prototype

Profit share from steel sinks as earnings from technology grow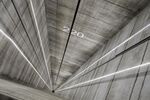 It is a mark of the transformation going on at Thyssenkrupp AG that the most profitable operation at Germany's biggest steel company is producing elevators not metal.
The industrial giant, with roots dating to 1811, has poured research into its elevator unit to turn what was a sideline into a primary business. The strategy is Thyssenkrupp's bid to survive in an international steel market flooded with cheap imports from Chinese rivals.
In the past six years, Thyssenkrupp has earned more from elevators than steel as the market for metals weakened. The company's investments are pushing the elevator industry into new areas, with innovations like the first model to move sideways as well as up and down, and moving walkways that levitate on magnets. Other manufacturers are taking note.
"We've managed to stimulate competition, in some cases to the point where our concepts are taken over or adapted," Andreas Schierenbeck, the elevator unit's chief executive officer, said in an interview at its main office in Essen, Germany. "That's good. If you're being copied, you're doing something right."
In one example, Thyssenkrupp's twin system, where two cars travel independently in the same shaft, led others to push alternatives such as double-decker elevators. Such rivalry can also help increase acceptance of the new technology by architects and builders, wary of installing costly machinery that lacks a proven track record, as well as developing a necessary market for equipment and maintenance suppliers.
Chinese Rivals
While the elevator business has been growing for a decade, and earnings are rising, steel revenue has been dropping as competition from China slashed prices and eroded profit. While Thyssenkrupp has recovered from three years of losses that ended in 2014, the materials division including steel made up 28 percent of total earnings last fiscal year, down from 40 percent just before CEO Heinrich Hiesinger took the helm in January 2011.
Almost a decade after the global financial crisis, demand for European steel is still about a quarter below 2008 levels. More than 75,000 jobs, or about one in five, have gone in that period. At the same time, China is exporting record amounts.
Thyssenkrupp isn't alone in seeking creative answers to market woes. Voestalpine AG, Austria's once state-owned steelmaker, is focused on making components for the auto and aerospace industries, and even branching out into systems for monitoring railroads.
Volatile Business
As steel margins declined at Thyssenkrupp, Hiesinger has sought to rely less on the volatile business and build up other areas including the elevator operation.
The company agreed in February to sell its Brazilian steel plant to Ternium SA, drawing a line under the worst investment in its history. It completes Thyssenkrupp's exit from its Steel Americas unit, following 8 billion euros ($9 billion) of losses from a decision to expand in the region in 2005.
The producer has also been in talks with Tata Steel Ltd. for over a year on placing their European steel businesses into a joint venture.
Such transactions set the German company on a path that would see it changed fundamentally, according to Independent Research GmbH analyst Sven Diermeier.
"Ultimately, it will mean that Thyssenkrupp will become an industrial goods company that holds a stake in a steel joint venture," he said from Frankfurt.
The company could potentially spin off the venture in an initial public offering and sell the Materials Services division that includes managing steel supply, warehousing and inventory, according to a Credit Suisse Group AG report this month.
IPO Spinoff
History is littered with efforts at corporate metamorphosis.
Nokia Oyj, a one-time maker of paper and galoshes, ended up as the dominant producer of mobile handsets before Apple Inc.'s iPhone eclipsed its business in a matter of years. John Menzies Plc, with origins as an Edinburgh bookshop in 1833 and chain of newspaper shops, now runs global parcel distribution, cargo handling and aviation services.
Such strategies typically face hurdles. Germany's biggest labor union, IG Metall, opposes Thyssenkrupp's joint venture plans. It fears they're a way to exit steel entirely and cut jobs, according to Wilhelm Segerath, a member of the union board and chairman of the works group council.
Yet, standing still isn't an option as long as Thyssenkrupp's steel business bleeds cash.
The elevator division has spent about 400 million euros on research and development in the past five fiscal years, allowing it to "try wild things out," unit chief Schierenbeck said. The division already provides almost 60 percent of adjusted earnings before interest and taxes and aims to boost profit to 1 billion euros from 860 million in the fiscal year ended in September.
Wild Things
On June 22, Thyssenkrupp will unveil a first prototype of its Multi elevator that uses magnets instead of cables to move multiple cars up, down and sideways, reducing the space needed for shafts and greatly expanding people-carrying capacity. The technology, which may be installed by customers as early as 2019, has the potential to revolutionize building design and the market for elevators, according to Schierenbeck. An agreement is ready on the first project to test the market, he said without elaborating.
"We will talk to competitors about licensing," he said. "The issue is too big for us to be able to roll up the market on our own."
The company, which supplied elevators and moving stairs for New York's One World Trade Center, competes with U.S.-based United Technologies Corp.'s Otis unit, the largest elevator producer by revenue. European peers include Finland's Kone Oyj and Switzerland's Schindler Holding AG.
Another of Thyssenkrupp's major innovations is its magnetic levitating walkway. Borrowing technology from high-speed trains, the Accel system will be able to accelerate to 4.5 miles an hour and travel as far as a mile. The company will also install Microsoft Corp. systems in more than 100,000 of its 1.2 million existing elevators by the end of the year, aiming to cut in half the time they spend out of service.
"We've never really been known as particularly pushy or inventive," Schierenbeck said. "Because of our innovations, our image is now being transformed."
— With assistance by Thomas Biesheuvel
Before it's here, it's on the Bloomberg Terminal.
LEARN MORE