Shkreli Seeks Steep Cut in $5 Million Bail as Trial Nears
By
He plans to use the money to pay for taxes, legal costs

Defense lawyer says there's no risk Shkreli will flee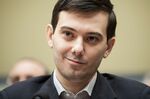 Just days before the start of his fraud trial, Martin Shkreli is running short on cash.
A lawyer for the brash former pharmaceutical executive asked a federal judge to cut his bail from $5 million to $2 million, freeing up $3 million for tax and legal expenses. There's no risk that Shkreli will flee, the attorney added.
"Today, the majority of Mr. Shkreli's assets are illiquid," defense lawyer Benjamin Brafman said in a June 15 letter to U.S. District Judge Kiyo Matsumoto in Brooklyn, New York. "The current bail is far in excess of what is required."
Shkreli became notorious after his Turing Pharmaceuticals LLC bought the life-saving HIV and AIDS drug Daraprim and raised its price to $750 from $13.50. But his criminal trial, which is scheduled for June 26, will have nothing to do with that. He's accused of deceiving investors about the performance of two now-defunct hedge funds and taking assets from Retrophin Inc., which he co-founded, to pay off his funds' debts. Shkreli denies wrongdoing.
Federal prosecutors in Brooklyn oppose Shkreli's bid to cut his bail, Brafman said. John Marzulli, a spokesman for Acting U.S. Attorney Bridget Rohde, declined to comment.
Shkreli owes money to his civil lawyers for work related to this case and others, Brafman said. He also has debts to forensic accountants who are addressing state and federal tax claims against him.
"Although Mr. Shkreli is still worth a lot of money due to his ownership interest in Turing, that interest cannot be sold, nor can it be pledged," Brafman wrote.
"More to the point, there should be no doubt about Mr. Shkreli's intention to appear when required," he added, noting that Shkreli would lose his interest in Turing, now worth tens of millions of dollars, were he to flee.
The request for a bail modification follows a report that Shkreli allegedly awarded a $40,000 scholarship to a recent Princeton graduate when the student solved a math question posed by him during a visit to the university. Brafman declined to comment on the report when contacted by email on Friday.
The case is U.S. v. Shkreli, 15-cr-00637, U.S. District Court, Eastern District of New York (Brooklyn).
Quotes from this Article
Before it's here, it's on the Bloomberg Terminal.
LEARN MORE