Game Changer
The Man Who Ran the Bank Bailout Is the Fed's Toughest Internal Critic
"How can this group of really smart people who are dedicated public servants keep making the exact same mistake over, and over, and over, and over again?"
By and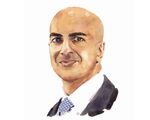 In 2008, as interim assistant secretary of the Treasury for financial stability, Neel Kashkari oversaw the bailout of the country's biggest banks. So this April, when JPMorgan Chase & Co. Chief Executive Officer Jamie Dimon declared in his annual shareholder letter that the problem of too big to fail had been solved, Kashkari, now the president of the Federal Reserve Bank of Minneapolis, was more than ready to respond—in public.
In an unusual step for a Fed official, Kashkari wrote a medium.com post calling the banker's assertions "demonstrably false." It's not only Dimon he opposes: Kashkari's tactics fly in the face of the painstakingly complex approach his colleagues in Washington and New York have taken to regulatory reform. "I feel like we're pushing the envelope in every possible way we can, within the bounds that we can control," he says of the Minneapolis Fed under his leadership.
Kashkari started his professional life as an aerospace engineer developing technology for NASA missions. He then went to the Wharton School and landed a job at Goldman Sachs Group Inc. in San Francisco, but he didn't find it as "intellectually challenging" as engineering. When then-Goldman CEO Henry Paulson Jr., with whom Kashkari had had all of one 15-minute conversation, left the bank to become Treasury secretary, Kashkari asked to follow him. After a background check, Paulson agreed, and Kashkari moved to Washington in 2006.
Paulson says Kashkari "has the creativity and courage to develop fresh ideas, combined with powerful advocacy skills and management ability." He's the first U.S. central banker to maintain an active presence on Twitter and hosts conferences at his bank on topics such as inequality, an issue Fed officials have typically shied away from. Kashkari considers all of this to be well within his job description. "If we can surface ways of reaching more Americans to get into the workforce and get a good job, that does contribute to us achieving our maximum employment mandate," he says. Earlier this year, his Fed bank introduced a project called the Opportunity & Inclusive Growth Institute to conduct research on how economic policy affects the distribution of wealth in society.
Ratcheting up capital requirements, Kashkari thinks, is a much simpler way to regulate banks, and he spent much of his first year in Minneapolis on a proposal to raise them to 23.5 percent from 13 percent. As a first-time voter on the central bank's Federal Open Market Committee this year, he was the lone dissenter in its March and June decisions to raise rates. Those of his colleagues who favor tightening have too much faith in their models, Kashkari says. "It's like mean reversion is the religion of the Fed," he adds. Eight years of missing targets call for a new approach. "How can it be that this group of really smart people who are dedicated public servants keep making the exact same mistake over, and over, and over, and over again?"
Before it's here, it's on the Bloomberg Terminal.
LEARN MORE