May Is Living Brexit Nightmare She Warned Of
By and
After election reverse, deadly London fire adds to her woes

EU talks to start amid turmoil in parliament, protests outside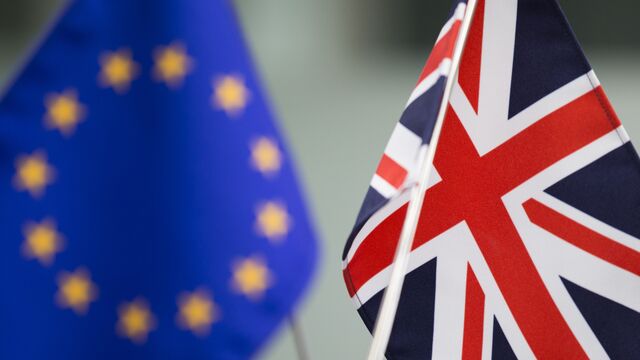 It is barely a fortnight since Theresa May warned that Britain might head into Brexit negotiations with "a weak and unstable prime minister." It's happening. It's her.
May seemed to have bought herself time at the start of the week, after she apologized to Conservative lawmakers for the election disaster she'd led them into. But the government's response to a deadly fire in a west London tower block -- and May's initial decision not to talk to survivors -- has again highlighted the prime minister's limitations. When she returned to the scene on Friday, angry crowds hurled abuse.

Turmoil in parliament and protests outside it: That's the backdrop to May's preparations for one of the biggest diplomatic challenges a U.K. leader has faced since World War II. She called the election saying only a "strong and stable" government could handle Brexit talks. She'll go into them without the mandate she hoped for, with senior ministers ordering her to change her negotiating stance, and with European leaders across the table wondering how long she can last.
"Without allies in her party or a majority in parliament, she appears alone and defenseless," said Rosa Prince, author of "Theresa May: The Enigmatic Prime Minister." "The fact that all of her problems are of her own making must be particularly galling."
Slow Response
May's closest aides, Fiona Hill and Nick Timothy, both quit in the wake of the shock election result on June 8, after lawmakers complained about their cliquey style. Her two political spokeswomen had resigned at the start of the campaign. The departures leave the prime minister short of communications experts and advisers she trusts, just when she needs expertise and advice more than ever.
May's weakness as a performer, a recurring theme of the election campaign, was exposed once again in an interview with the BBC late Friday in which she several times avoided answering questions on whether she had misjudged the public mood after the fire. Instead she repeated talking points about the government's response to the disaster.
Because May put herself and her Brexit plan at the heart of the campaign, ministers were emboldened to confront her after the Tories lost seats. Chancellor of the Exchequer Philip Hammond, Home Secretary Amber Rudd and Scottish Conservatives leader Ruth Davidson all told the prime minister that she had to shift her negotiating focus from cutting immigration to securing economic growth. Real wages are falling, and the fear among Conservatives is that even though voters backed Brexit, they won't forgive the Tory party if leaving the European Union makes them poorer.
Tower Fire 
With its strategy upended, May's government was battling to give the impression of business as usual before the start of talks on Monday. The Grenfell Tower fire, which looks likely to have left dozens dead, has dealt a serious blow to that plan.

May's response to terrorist attacks earlier in the year had been assured, but she has stumbled in dealing with this crisis. Parliament hasn't formally opened yet, so the initial government response was left to two junior ministers briefing lawmakers in a side room. It took May a day to announce a public inquiry, and two days to promise an aid package.
Worse, though the fire started in the early hours of Wednesday morning, it wasn't until Friday that May met survivors. Opposition leader Jeremy Corbyn, whose Labour Party saw its support surge during the campaign, had already been pictured hugging one of them. A Tory minister blamed security concerns for May's failure to speak to victims. That looked less plausible when the queen visited them.

After an election campaign in which May avoided unscripted encounters with the public, it appeared she was doing the same with the Grenfell victims.
The Times's front-page headline Saturday said "May Takes Cover," with a photo of her leaving a meeting of relatives with a barricade of officers keeping people at a distance, while the Daily Mirror front page had pictures of May surrounded by officers and of the queen speaking to people at a shelter. The headline: "A tale of two leaders."

'Poisoned Chalice'
Tory lawmakers are now wondering how and when to throw May overboard. One of them, Ed Vaizey, told Bloomberg television on Friday only that she would stay "for the foreseeable future." That, he said, "could be anything from six months to two years."
Vaizey was clear that May won't lead the party into the next general election. On paper, that's five years away; in reality, probably much sooner. May said in April that she was going to the polls because her majority wasn't big enough to get the necessary Brexit legislation through parliament. She now doesn't have a majority at all.

May's party is famously ruthless with leaders perceived to have failed. But it's possible that the very bleakness of her prospects will keep her in place for the time being.
Unless Tory lawmakers can agree on a successor among themselves, a contest could take months -- landing the new leader right in the middle of Brexit talks. Theo Bertram, who advised both Tony Blair and Gordon Brown when they were prime ministers, said that Tories with their eye on May's job may prefer to avoid that task.
"Brexit has so far proved to be a poisoned chalice for a generation of political leaders," he said. "May's opponents could decide it is better to wait and let her finish it."
Before it's here, it's on the Bloomberg Terminal.
LEARN MORE