Helmut Kohl, Chancellor of German Reunification, Dies at 87
By and
In office for 16 years, Kohl paved way for monetary union

Merkel pays tribute to her mentor for changing her life's path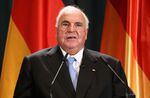 Helmut Kohl, the German chancellor who oversaw his country's 1990 reunification after the Cold War, helped forge Europe's economic and monetary union and gave incumbent Angela Merkel her first cabinet post, has died. He was 87.
Merkel's Christian Democratic Union, which Kohl led for a quarter century, confirmed his death. Bild newspaper, which was first to report the news, said the former chancellor died at his home in the western German city of Ludwigshafen. Kohl had been ailing since suffering a fall at his home in 2008.
Germany's longest-serving chancellor since 19th century leader Otto von Bismarck, Kohl began his tenure in 1982 when the Soviet Union had an iron grip over eastern Europe. He was voted out of office 16 years later, having earned the title of unity chancellor after mass protests forced East Germany's communist regime from power, leading to national reunification 11 months later.
East Germany's collapse paved the way to power for Merkel, an East Berlin physicist who joined the CDU and was recruited by Kohl for his post-unity cabinet. A decade later, she broke with him over a party financing scandal and soon took over his former post as CDU leader. She's now been chancellor for almost 12 years.
"Helmut Kohl was the right man at the right time," Merkel said Friday during a trip to Rome for a papal audience. "He held steady to the dream and the goal of a united Germany, just as others wavered." She paid tribute to his support of her career, saying Kohl "decisively changed my path in life."
Kohl's Allies
Kohl was aided in reuniting East and West Germany by political alliances with two U.S. presidents -- Ronald Reagan and George H.W. Bush -- and then-Soviet leader Mikhail Gorbachev. Kohl's friendship with French President Francois Mitterrand helped pave the way for the European Union, its expansion to the east and the birth of the euro.
His legacy suffered after he left office, when the CDU was rocked by a finance scandal. His twilight years were shadowed by family drama. His wife, Hannelore, committed suicide in 2001 after suffering from an allergy to sunlight. One of his two sons, Walter Kohl, published a book in 2011 detailing how their father focused exclusively on politics, ignoring his family.
It was Merkel who delivered the ultimate political blow to Kohl, publicly breaking with her political mentor in 1999 as the party was engulfed in scandal. But by that time, Kohl's position in post-World War II German history was already set.
Global Tributes
Tributes poured in from his former colleagues across the world. Former President Bush, who was in power during reunification, called Kohl a "true friend of freedom."
"Working closely with my very good friend to help achieve a peaceful end to the Cold War and the unification of Germany within NATO will remain one of the great joys of my life," Bush said in a statement. "Throughout our endeavors, Helmut was a rock -- both steady and strong."
"We are losing a very great European," tweeted French President Emmanuel Macron, who was four years old when Kohl took office.
Kohl seized his moment on Nov. 9, 1989, when the opening of the Berlin Wall gave way to throngs of East Germans swarming to the west. With the help of West German Foreign Minister Hans-Dietrich Genscher, Kohl within three weeks introduced a 10-point plan laying out steps toward a single German state. Huge crowds cheered him when he traveled to East Germany.
Navigating Unification
Kohl overcame Gorbachev's objection to a united Germany's membership in the North Atlantic Treaty Organization. On Oct. 3, 1990, he presided over a celebration at Berlin's Reichstag with fireworks and the German colors marking national reunification.
Kohl's promise to East Germans of "flourishing landscapes" didn't go so smoothly. Although the government poured billions of deutsche marks in investment into its new eastern states, economic growth was slower than in the west. One of the most criticized measures was a plan to convert the East German mark to the deutsche mark on a 1-to-1 basis, saddling uncompetitive state firms with the burden of paying workers in the new currency.
Two and a half decades later, things are looking up in the east. The region that now builds Porsche and BMW cars suffered less of a slump than western Germany in the global financial crisis that began in 2008.
Building Europe
Kohl's other major project was greater integration of the EU. The centerpiece of binding together the bloc's common market was the single currency. Kohl became a champion of the plan over the objections of most German voters and part of the political establishment. He cited the euro as a symbol of Germany's duty to Europe in the shadow of its Nazi past.
At well over 6 feet (1.93 meters), Kohl towered over allies and enemies. An iconic picture that went around the world in 1984 showed him standing hand-in-hand with Mitterrand at the World War I battlefield of Verdun in France honoring the dead of the two countries, which were enemies in both world wars.
In 1992, Kohl signed the Maastricht Treaty that led to a single European currency. In his last year as chancellor, Germany's scrapped the deutsche mark and replaced it with the euro.
"German and European unification are two sides of the same coin," Kohl often said.
Helmut Josef Michael Kohl was born April 3, 1930, in Ludwigshafen, an industrial city on the Rhine. The son of a Roman Catholic civil servant, he started his political career in the Christian Democratic Union as a teenager in the late 1940s.
Historian's Eye
He earned a doctorate in history from the University of Heidelberg in 1958, became CDU leader in his home state of Rhineland-Palatinate in 1966, was elected state premier in 1969 and the party's national head in 1973.
Kohl came to power in 1982 when the pro-business Free Democratic Party defected from the governing Social Democrats after a dispute over public spending and the stationing of U.S. missiles in West Germany. He went on to win elections in 1983, 1987, 1990 and 1994, before Social Democrat Gerhard Schroeder defeated Kohl in 1998.
In 1999, after his defeat, Kohl admitted that as party head he had illegally accepted anonymous donations of as much as 2 million marks ($1.14 million). He never publicly revealed the donors and a court ordered him to pay 300,000 marks rather than press criminal charges.
A 79-year-old Kohl spoke at the 20th anniversary of the collapse of the Berlin Wall in 2009, his first in public since a fall the previous year at his home in southwestern Germany left him needing physical rehabilitation. He went on stage in a wheelchair and spoke haltingly.
"In German history we don't have many reasons to be proud," Kohl told the audience. Still, he said, "I have every reason, despite the resentment and exasperation, to be proud. I have nothing better to be proud of than being proud of German unity."
Before it's here, it's on the Bloomberg Terminal.
LEARN MORE