Economics
The Fed Is Flying Blind
The U.S. central bank isn't sure why inflation is staying so low—but it's raising rates anyway, risking a recession.
By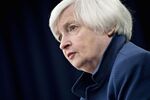 The architects of U.S. monetary policy at the Federal Reserve should be happy. They've succeeded beyond their own expectations in bringing down the unemployment rate without triggering an outburst of inflation. Stock indexes are near record highs, and interest rates remain low.
But those who set interest rates are in the awkward position of not understanding how things got so good—and are therefore confused about what to do next. "The Fed isn't run by computers, it's run by people," says David Rosenberg, chief strategist at Gluskin Sheff + Associates, an asset management company in Toronto. "Like all of us they have their flaws and their blind spots."
On June 14, the Federal Open Market Committee voted as expected to raise the federal funds rate a quarter point, to a range of 1 percent to 1.25 percent. It said it expects inflation to rise to its 2 percent target "over the medium term."
For Fed Chair Janet Yellen and company, the central mystery continues to be why ­inflation remains below 2 percent despite unemployment having dropped to just 4.3 percent in May. Even ex-convicts and high school dropouts are getting job offers—one reason why many economists believe it's inevitable that wages must rise. "When you have a shortage of supply of something, its price will go up," says Gad Levanon, chief U.S. economist at the Conference Board, a business-­supported research group.

A tight job market, however, hasn't translated into inflation. The Fed's preferred measure of inflation, the personal consumption expenditures price index, rose just 1.7 percent in April from a year earlier. On June 14, as the Fed was meeting, the Bureau of Labor Statistics announced that the Consumer Price Index excluding food and energy rose just 0.1 percent in May, the third surprisingly low reading in three months.
Michael Feroli, the chief U.S. economist at JPMorgan Chase & Co., sympathizes with Yellen's predicament. He said in an interview before the FOMC meeting that Yellen is relying out of necessity on the Phillips curve, which says that lower unemployment leads to higher inflation. "It's kind of the best we've got" as a descriptor of the economy, he says. Still, Feroli couldn't resist headlining his report on the puzzlingly low CPI number, "Captain Phillips goes overboard."
Some economists worry that the Fed rate increases will abruptly cool the economy by increasing the cost of borrowing via credit cards, auto loans, and student loans, as well as business loans. Rosenberg, who's more bearish than most economists, points out that recessions occurred 10 of the last 13 times the Fed raised interest rates. He says the U.S. is due for a recession within the next 12 months.
There's little evidence of financial stress so far. In fact, the Goldman Sachs Financial Conditions Index, which includes stocks, bonds, and currencies, says that conditions are as favorable for growth now as they were shortly before the Fed began hiking rates at the end of 2015.
But the risks could simply be hidden. If rates get much higher, borrowers who took on too much debt during the long period of abundant credit may have trouble making payments or refinancing, says Christopher Whalen, chairman of Whalen Global Advisors Inc. He says the Fed should have begun tightening credit several years ago but can't do so now without triggering a wave of defaults. "I think they're stuck," he says. "They've boxed themselves in."
President Trump has three vacancies to fill on the seven-member Federal Reserve Board, and two more positions may open next year if Yellen and Stanley Fischer give up their board seats upon completing their terms as chair and vice chair, respectively. The last thing Yellen wants is to go down in history as the person who took the baton and fumbled it.
BOTTOM LINE -
The Fed raised interest rates again on June 14, even though inflation is below its target. That's because it's counting on low unemployment to push up wages and prices.
Before it's here, it's on the Bloomberg Terminal.
LEARN MORE