Remarks
Should Members of Congress Carry Guns?
After Wednesday's shooting, some are calling for armed legislators. But it's unlikely to make them any safer.
By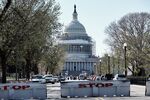 The congressional shootings Wednesday prompted some Republicans to call for lawmakers to be armed. Would that be a good idea—more guns, less crime? Not necessarily.
House Majority Whip Steve Scalise of Louisiana remained in critical condition after surgery to treat a gunshot wound to the hip. The attack in a Washington suburb by an apparently politically motivated shooter using a military-style, large-capacity rifle also left three others wounded. On the same day, on the other side of the nation, a man shot five co-workers—three of them fatally—at a United Parcel Service facility in San Francisco.
As Bloomberg News reported Thursday morning, some Republican members of Congress responded to these events by proposing that lawmakers carry their own guns for protection. Representative Dave Brat of Virginia told reporters that Congress should consider allowing members to arm themselves for the sake of safety. At present, firearms and other dangerous weapons (except those carried by law enforcement) are prohibited on the U.S. Capitol grounds. 
Representative Chris Collins, a New York Republican, said he now intends to carry a firearm at public events, according to television station WKBW. "I can assure you, from this day forward: I have a carry permit. I will be carrying when I'm out and about," Collins said. "It's going to be in my pocket from this day forward."
The notion that carrying of concealed weapons reduces crime is most closely associated with an economist named John Lott, whose books include More Guns, Less Crime (1998). Based on research of county crime levels in states with varying guns rules, Lott concluded that "allowing citizens to carry concealed weapons deters violent crimes without increasing accidental deaths." His findings, widely publicized and embraced by the gun-rights movement beginning in the late 1990s, helped propel many states to make it easier to carry firearms in public. Today every state allows so-called concealed carry, although permitting rules vary.
Gun-control groups, unsurprisingly, have argued that lax concealed-carry laws lead to a "Wild West" environment and more bloodshed. "Far too many [concealed-carry] permit holders are a direct threat to public safety," one such group, the Violence Policy Center, says on its website. 
So who's right? The best research I've seen came from law professors Ian Ayres of Yale and John Donohue III of Stanford. In a 2003 paper entitled, "Shooting Down the 'More Guns, Less Crime' Hypothesis," they offer a nuanced assessment that hasn't been improved on since. Their conclusion: "We find that the statistical evidence that these laws have reduced crime is limited, sporadic, and extraordinarily fragile."
Examined closely, the data simply don't support Lott's theory. For example, Ayres and Donohue point out, Lott overlooks the strong association of permissive concealed-carry laws with rising incidences of robbery and various types of property crime. Those increases "are not consistent with any plausible theory of deterrence" by permissive gun laws, they convincingly assert.
Ayres and Donohue do acknowledge that Lott got at least one thing right: Permissive firearm laws "have not led to the massive bloodbath of death and injury that some of their opponents feared."
Bottom line: Be wary of anyone who comes to the gun debate shouting about anecdotal evidence that concealed-carry has a discernible effect, one way or the other. The data simply aren't conclusive. 
Before it's here, it's on the Bloomberg Terminal.
LEARN MORE