Shooting of Gun-Rights Congressman Fires Up Both Sides of Debate
By
Shooter in Virginia, killed by police, injured at least four

Scalise claims A+ rating from National Rifle Association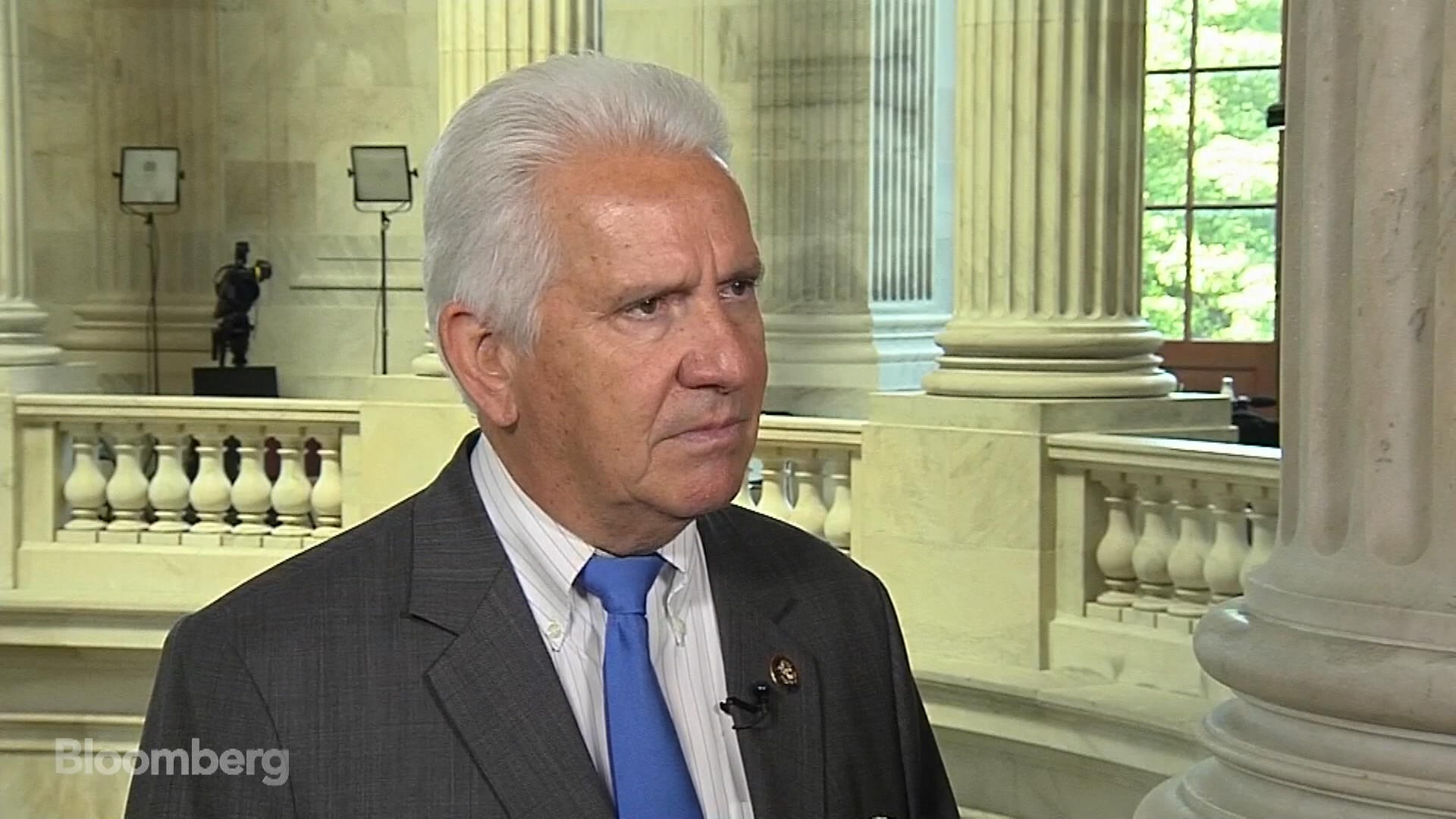 The shooting of a Republican lawmaker known for his support for gun rights sparked alarm among GOP colleagues, with some calling for lawmakers to carry weapons and others saying the attack doesn't justify tighter firearms restrictions.
Representative Steve Scalise, 51, was in critical condition Wednesday after surgery to treat a gunshot wound to the hip. The Louisiana Republican describes himself on his website as a "strong supporter" of the Second Amendment that lays out rights to possess arms, with an A+ rating from the National Rifle Association that opposes gun-control measures.

The shooting in a Washington suburb -- which came on the same day that a man shot five co-workers, three of them fatally at a United Parcel Service Inc. facility in San Francisco -- is reviving the nation's unsettled debate over gun control, one in which Scalise has played a leading role.
"There are too many guns on the street,' Virginia Governor Terry McAuliffe told reporters near the scene. "It's not just about politicians. We worry about this for all our citizens."
Republicans said the shooting didn't show new gun laws are needed -- and some suggested lawmakers arming themselves was a better solution.
More: Top GOP Lawmaker Shot at Congressional Outing, Gunman Now Dead
"We've got plenty of gun laws. I own a gun; I don't go around shooting people with it," Senator Lindsey Graham, a South Carolina Republican, told reporters. "Bottom line: people get shot, run over by cars, stabbed. It's just a crazy world."
"If we had that debate, it'd end like it always ends," Graham said. "We're not going to tell law-abiding people they can't own a gun because of some nut job."
Republican Representative Dave Brat of Virginia told reporters at the Capitol that Congress should consider allowing members to carry guns to protect themselves. Firearms and other dangerous weapons are prohibited on the U.S. Capitol grounds, according to a notice on the Capitol Police website.
Representative Chris Collins, a New York Republican, said he now intends to carry a firearm at public events, according to WKBW, a television station that serves Buffalo, New York.
"I can assure you, from this day forward: I have a carry permit. I will be carrying when I'm out and about," Collins said, according to a recording posted on Twitter by the station's Ali Touhey. "It's going to be in my pocket from this day forward."
Related: Shooting Suspect's Back Story: Tales of Gunfire and Online Rants
Scalise's position on firearms legislation puts him within the mainstream of the Republican Party, which endorsed gun rights in its platform last year. The NRA urged voters to support President Donald Trump.
Scalise voted along with other House Republicans in January to reverse a federal rule aimed at preventing people with serious mental-health problems from buying guns. The measure succeeded following a Senate vote, and the repeal was signed by Trump in February.
Scalise is among 148 co-sponsors of a bill to loosen restrictions on silencers that had been set for a hearing Wednesday. A House committee canceled the session.
Over his congressional career that began in 2008, Scalise has introduced four times a measure to ease interstate firearms sales. He has supported bills to repeal gun-control measures in the District of Columbia and to allow people with state-issued permits to carry concealed weapons do so in other states. Those measures never became law.
In remarks on the House floor in 2013 after a gunman killed 20 elementary school children and six adults in Newtown, Connecticut, Scalise called the Second Amendment "incredibly sacred."
"It's unfortunate that some try to take advantage of disasters to go and try to chip those rights away," Scalise said.
Virginia Shooting
Scalise, a congressional staff member, a lobbyist and a Capitol Police officer were injured in the early morning shooting at a congressional baseball game practice in Alexandria, Virginia. The gunman was shot by police and later died. Two weapons were being investigated, a rifle and handgun, according to the FBI.
The bullet that struck Scalise traveled through his pelvis, fracturing bones, injuring internal organs, and causing severe bleeding, according to a statement from MedStar Washington Hospital Center. He underwent emergency surgery and has received multiple units of blood, the hospital said, adding that he'll need additional operations.
"These horrifying incidents have become far too commonplace and have absolutely no place in our society," Representative Mark Pocan, a Wisconsin Democrat, said in a statement. "As Congress holds another moment of silence today, I hope we will have a moment of action after it."
The gunman, identified by police as James Hodgkinson, 66, presented himself on social media as a supporter of Democratic presidential candidate Bernie Sanders and decried the election of Trump. He joined a Facebook group called "Terminate The Republican Party."
Unity Rite
Lawmakers from both parties and the Trump administration sought on Wednesday to avoid casting the incident in political terms, focusing mostly on a message of unity and expressing concerns for the victims. They pledged to go ahead with the congressional baseball game, a bipartisan rite pitting Democrats against Republicans that is scheduled for Thursday.
Yet, on the fringes of the political spectrum, personalities including Rush Limbaugh had begun to blame "left-wing TV and comedy" for radicalizing the assailant.
Scalise, known for his genial demeanor, plays pickup basketball as well as the annual baseball game that raises money for charity.
He has risen to House majority whip, the No. 3 job on the leadership ladder, that has him counting votes and deciding tactics -- tasks he conducts without the bombast and arm-twisting that were hallmarks of some of his predecessors.
Scalise's district hosts both producers and refineries of petroleum, and he is one of the biggest cheerleaders for the state's offshore drilling operations. Every year he invites fellow lawmakers on a tour of energy operations in the state, including a helicopter tour out to an offshore oil rig.
Fighting About America's Guns and Also About Its Soul: QuickTake
Scalise and his political committees have received $72,477 in campaign contributions since 2007 from the NRA and other gun-rights groups, according to Federal Election Commission records.
More protection may be needed for congressional leaders now, Representative Mark Meadows, a North Carolina Republican, told reporters.
"It's the times we live in. Sadly we have got to figure out ways to protect them," Meadows said. "They have a target on their back every day."
"If we are going to focus on anything we are going to have to focus on the mental health side of things," Meadows said. "We can't stop people from doing evil things."
Michael Bloomberg, the founder and majority owner of Bloomberg LP, is an advocate of gun restrictions.
"I think we're beyond the place in which Washington responds to mass shootings," said Senator Chris Murphy, the catcher on the Democrats' baseball team and a leading proponent of gun control measures. He cited the massacre of schoolchildren at Sandy Hook Elementary School in his state of Connecticut in 2012, and of club-goers in Orlando last year.
"I mean, we don't. We don't," he said. "After Orlando and Sandy Hook, that's clearly not how people's minds change here."
Before it's here, it's on the Bloomberg Terminal.
LEARN MORE