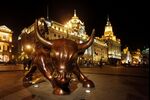 Investors have been buying mainland Chinese stocks in the hope they'll be added to MSCI Inc.'s benchmark indexes. Such confidence may be misplaced.
The creator of equity gauges followed by global money managers is set to announce within a week whether 169 so-called A shares will be included. It's a less ambitious proposal than in previous years, considering there are some 3,380 companies listed on the Shanghai and Shenzhen bourses. A shares would account for just 0.5 percent of MSCI's emerging markets index if they're allowed in, though China already has the single-largest weighting by virtue of mainland firms listed in Hong Kong and the U.S.

To ease foreign investors' concern that they'd be stuck valuing shares in the Chinese currency, MSCI has said it will permit the offshore yuan to be used for that calculation. Companies that have halted trading in their shares for more than 50 days in the past 12 months won't be admitted either.
At any rate, a large part of China's stock market is already available to international investors, via Hong Kong. Two trading links now connect the city's stock market with exchanges in Shanghai and Shenzhen, and as a result, more than 1,700 Chinese shares can be purchased through Hong Kong brokerage accounts, which are easy to set up.
Despite a correction triggered by Anbang Insurance Group Co.'s woes, flows into China have picked up over the last few weeks. Northbound inflows, or those from Hong Kong, have surged to about 2 billion yuan ($294 million) a day from 800 million yuan earlier in the year, while southbound buying has slipped to 400 million yuan a day versus an average 1.4 billion yuan in the first four months of 2017, data from China International Capital Corp. show.

But here's why MSCI would be wrong to acquiesce.
Funds wanting to set up yuan-denominated financial products, including A share exchange-traded funds, will still need approval from the Shanghai and Shenzhen stock exchanges. No other global market has such a requirement, making it an anomaly at a time when ETFs are among the world's fastest-growing investment products.
In addition, there's a 20 percent monthly capital repatriation maximum allowed under the Qualified Foreign Institutional Investor program, and trapped cash is never popular with money managers.
And on the subject of stuck money, the propensity of Chinese companies to suspend trading in their shares is still high. According to Credit Suisse Group AG, about 8 percent of A shares were halted as of May, around the average level over the past three years.
It's telling that short interest in three of the biggest ETFs tracking the country's shares has climbed since hitting lows in March. Those investors could be onto something.
Before it's here, it's on the Bloomberg Terminal.
LEARN MORE