Merkel's Re-Election Race Tightens in German Forecasting Model
By
Berlin researchers mine six decades of historical voting data

Chancellor's 9-point lead over SPD is smaller than in polls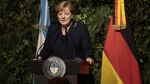 German Chancellor Angela Merkel's party faces a tighter national election in September than polls suggest, according to a forecasting model that mines historical data rather than voter surveys.
Polls that point to a blowout for Merkel's Christian Democratic-led bloc "will converge back to fundamentals," said Mark Kayser, a professor of applied methods and comparative politics at the Berlin-based Hertie School of Governance. He co-authored the model, which still forecasts that Merkel will win by 9 percentage points.
"Right now it looks pretty good for her," Kayser said in an interview on Thursday. "She's not riding as high as she was in the past, but these look like pretty respectable numbers."
The model offers a more measured electoral picture than voter-intention polls, in which her bloc has vaulted ahead of the second-place Social Democrats after an early surge of support for SPD challenger Martin Schulz faded. If replicated on Election Day, the result would leave Merkel more than 6 percentage points short of her tally in 2013, when she won the biggest share of the vote since German reunification in 1990.
Merkel's CDU and her Bavarian CSU allies will take a combined 35.1 percent of the national vote on Sept. 24, compared to 26.1 percent for the SPD, according to the Hertie model. That compares to a 14-point spread between the two biggest parties in most national polls.

The Hertie projection looks at political and economic data, including national and state election distributions going back as far as 1961, rather than poll samples. Such a model works as a predictive benchmark, sketching an electoral outcome that assumes no major disruptions, such as a terror attack, a major scandal or a disastrous campaign.
"The polls are not a forecast," Kayser said. "That might be the sentiment right now, but this is the sentiment of people who aren't paying much attention to the election."

A predictive model from YouGov Plc in last week's U.K. election proved to be more accurate than most polls, pointing to Theresa May's Conservatives losing 20 seats in a hung Parliament with no party obtaining a majority. Surveys at the start of the campaign showed May's party some 20 points ahead.
When first published just over a week before the vote, the YouGov model, based on an analysis of 50,000 interviews over seven days, pushed the pound to the lowest in five weeks. Jim Messina, a former White House deputy chief of staff working for May's campaign, said he "spent the day laughing" at the forecast. When the votes were counted, the Conservatives were down 13 seats and had lost their majority.
Dependable Germans
Kayser, who co-authored his model with Arndt Leininger, a research associate at the University of Mainz, cautioned against comparing polling in Germany to the U.K., which has produced "the most volatile voter behavior that we've ever seen."
"In Germany, it's much more stable," Kayser said. "The German pollsters do much better, but I don't think it's a credit to German pollsters. They're just playing an easier game."
An early version of the Hertie model also showed Merkel ahead in February and March, when polls indicated that the SPD had pulled even with the CDU-CSU. That discrepancy was "shocking" to the forecaster team, Kayser said.
Merkel appears to have largely maintained her support after nearly 12 years of power, withstanding a "cost to ruling" factor, by which electorates begin to view politicians as having been around too long, he said.
One surprise yielded by the model was for Germany's Greens, whose support in national polls has slipped into the mid-single digits. The Hertie model gives them 10.5 percent.
— With assistance by Eddie Buckle, and Jana Randow
Before it's here, it's on the Bloomberg Terminal.
LEARN MORE