Sports
Mario Batali's Favorite Golf Course Is Just 'a Shack and a Track'
The celebrity chef shares the secrets of his golf game, including the place he likes to play to truly get away from it all.
Bloomberg News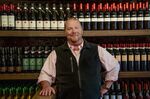 Any given week during the summer, Mario Batali will be playing a round of golf. The chef, whose restaurants include Babbo, Del Posto, Lupa, Bar Jamón, Esca, and the Italian-food supermarket destination Eataly, estimates that he will play 45 rounds over the summer.
"One of the things about my job is that I spend a lot of time in small, hot rooms surrounded by a lot of people," Batali said by phone. "For me, going out on the golf course is a remarkable, spiritual, cleansing thing."

And now, as a globe-trotting celebrity chef and a regular presence on the daytime gabfest The Chew, he finds appeal in going to exotic locations to try out the golf. "A lot of the luxury for me is the location," he said. One of the richest places was outside Cannes in France, but he has also played the Ocean Course, home to the 1991 Ryder Cup and the 2012 PGA championship, at the Kiawah Island Golf Resort in South Carolina. And Pebble Beach. "legendary courses I've seen on TV, that is great for me," said Batali.
When he's in Manhattan, he plays the course at Bayonne Golf Club, a 7,129-yard Scottish links-style course in New Jersey, just across the Upper Bay of New York Harbor. Batali's regulars include Jimmy Fallon and Michael J. Fox, though George Stephanopoulos makes the occasional appearance.
Still, he'll play just about anywhere: On a recent trip to Michigan, Batali went to Bahle Farms Golf Course in Traverse City, as well as Manitou Passage Golf Club and the Northport Creek Golf Course, the first solar-powered golf course in the country. "The best thing about golf is that it's playing against yourself, how calm you can be," he said. "Where hitting a bunker doesn't wreck your day."

Of all the courses with fancy carts and caddies, a low-key spot called Waterville, in Ireland, remains his favorite. "There's not much to it," he said. "It's a shack and a track. There are no trees. But I like it when it's pared back. You don't need a caddy shack." He uses a light carry bag—"no tour bag with a keg or TV screen in it," he joked. "I sympathize with the caddy who might have to carry it."
No need to get an overly expensive golf bag, either. "If you're carrying a fancy bag, you gotta be a five, or better," he said. Batali himself was a 17 handicap until he met golf whisperer Hank Haney. "He got me down to a 10," Batali said, by teaching the chef to stop standing on his toes and to swing more toward first base, out toward the right. "When you're a righty, your general thought is to push it straight, but that's not the case," he said. "But at a point you don't get better. You just enjoy it."

Batali's favorite club is the 8 iron: "That's the one I can count on to go exactly where I aim." His favorite part of the course is the putting green, "where you score." He uses the weather app Dark Sky, which gives him a window on when it's going to rain, so he can figure out where to work in a round. "I don't mind a little rain, but I don't want to get electrocuted," he said. He has a pair of orange Crocs with golf spikes that Crocs Inc. developed for him. 
Like all golfers, Batali has a few superstitions. He carries a single euro coin as his ball mark, and he'll pick up found half-tees on par 3s "if I do well," he said. "But I throw them away at the end, to throw away the bad strokes."
Before it's here, it's on the Bloomberg Terminal.
LEARN MORE