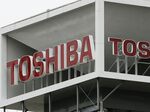 Cash-strapped Toshiba Corp. needs to sell its memory chip business, and quickly. Trouble is, Western Digital Corp., its partner in a key manufacturing joint venture, doesn't want a competitor to gets its hands on the crown jewel of Toshiba's sprawling conglomerate. Western Digital is incensed with the way the Japanese company is going about the divestment and has asked a U.S. court to block any sale while the two resolve their differences.
1. What's the argument over?
The dispute centers on the terms of their joint-venture agreement and Western Digital's legal rights to have a say in the sale. Western Digital inherited the partnership when it purchased SanDisk Corp. last year. Toshiba says the U.S. company failed to formalize its relationship with Toshiba after that purchase. Western Digital has asked a California court to block a sale of the unit while it seeks arbitration over Toshiba's moves to transfer assets of the joint-venture -- first to a separate legal entity, and then to its parent company.
2. Why the hurry for Toshiba to sell?
The Tokyo-based company needs to offset losses in its nuclear unit and must complete the sale by March 2018, the end of its fiscal year, or risk having its shares delisted from the Tokyo Stock Exchange. Toshiba is reeling from a disastrous bet on nuclear power via the purchase in 2006 of the now-bankrupt Westinghouse Electric Co. and has taken billions of dollars in writedowns. Shareholders reluctantly approved the sale of Toshiba's prized memory-chip unit at a meeting in March as incensed investors took turns to hurl abuse at executives.
3. Remind me, what's a memory chip?
These are the super-fast chips that store and retrieve information in devices ranging from smartphones to data centers. Demand for the chips just keeps on growing, along with prices, and Toshiba is the industry No. 2, behind Samsung Electronics Co. That helps explain why there's a long list of suitors. To add bitterness to the blow of having to sell the business, Toshiba was the inventor, in 1989, of the technology behind the chips: NAND flash memory.

4. Who are the suitors?
A group led by Bain Capital LP and Japanese investors was named as the preferred bidder with an offer of 2.1 trillion yen ($19 billion). The group has the support of state-backed Innovation Network Corp. of Japan and Development Bank of Japan. Government backing is seen as crucial to gaining approval for any deal. Other interest has come from Broadcom Ltd., a U.S. company that bid about 2.2 billion yen, and a group led by the private equity giant KKR & Co. There was also interest from Taiwan's Hon Hai Precision Industry Co. (a key Apple supplier) and South Korea's SK Hynix Inc., No. 3 in the industry.
5. Why the Japanese government interest?

The sale has taken on nationalist overtones in Japan. The government wants to keep the memory technology -- an integral component of defense hardware -- out of foreign hands, especially in China. Hon Hai founder Terry Gou has complained about the unfair process and vowed to press his case. There's an element of national pride, too, as Japan was the dominant power in semiconductors in the 1990s. Toshiba's chip business is just about all that's left.
6. What about Western Digital?
It certainly has the incentive to buy the business. Western Digital wants to make sure the operations aren't purchased by a competitor, a development that could disrupt its access to chips that are the future of the computer storage business. That business provides Western Digital with the majority of its revenue. Western Digital was planning to offer 2 trillion yen or more, a person familiar with the matter has said, but Toshiba is skeptical of the bid because of its financing and conditions.
7. What does Toshiba think of Western Digital's claims?
It says the joint venture only owns equipment and that the value of those joint assets is less than 5 percent of Toshiba's chip business. Their agreement entitles Western Digital to purchase wafers from Toshiba at cost and "nothing more." It says the joint-venture assets "are worth millions not billions." Toshiba has told Western Digital not to interfere in the sale and that it may take legal action. With its move in the California courts, Western Digital got there first.
The Reference Shelf
A Bloomberg News story on Westinghouse's nuclear troubles.
Bloomberg tech reporter Ian King discusses Toshiba's chip sale in a podcast.
A QuickTake explainer on the nuclear power industry.
Before it's here, it's on the Bloomberg Terminal.
LEARN MORE