politics
Balance of Power: Trump's Legal Peril Deepens
By and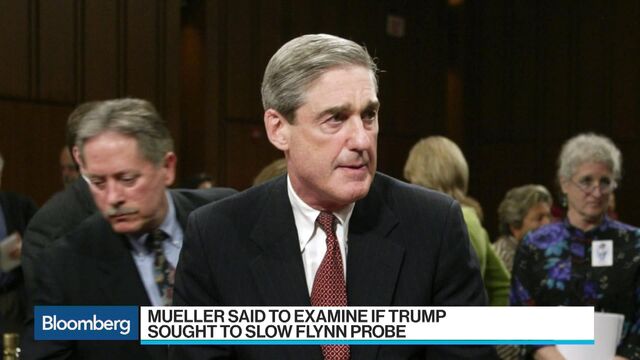 The shooting of a top Republican lawmaker on a suburban baseball diamond is the kind of shocking event that normally would galvanize Washington for weeks, even months. It barely lasted a day.  Because the day ended, as so many do now, with ever-deepening legal peril for Donald Trump.
Special counsel Robert Mueller has expanded the scope of his Russia-meddling investigation to focus on a key question: whether the president tried to enlist top U.S. intelligence officials to urge the FBI to ease up on the Michael Flynn probe, Bloomberg's Chris Strohm reports. 
That takes Mueller clearly into the arena of whether Trump tried to obstruct justice. One of those officials, Director of National Intelligence Dan Coats, will testify before senators today in a closed session.
The injured lawmaker, Rep. Steve Scalise, is clinging to life in a Washington hospital. Democrats and Republicans will probably debate new gun control laws,  though any changes at this point seem highly unlikely. 
The real debate is over Mueller, who now is closing in on the question of whether Trump committed an impeachable offense.
Sign up to receive the Balance of Power newsletter in your inbox, and follow Bloomberg Politics on Twitter and Facebook for more.

Global Headlines
U.S. Senate signals nyet on relaxing Russia sanctions | In an overwhelming 97-2 vote, the Republican-controlled Senate endorsed tougher sanctions on, despite Trump's desire for better relations with Vladimir Putin's administration. The measure would let Congress review any move by the president to lift existing penalties. Russia's stock market plunged on the news, taking the benchmark Micex index's losses for the year to 20 percent.

What was Turnbull thinking? | Nothing gets Trump more annoyed than allegations Russia helped him win November's election. But no one seems to have told Australian Prime Minister Malcolm Turnbull, who was busted parodying Trump at Australia's version of the White House Correspondent's Dinner. At one point Turnbull-as-Trump even suggested he had a secret friend who could help his online poll ratings: "I have this Russian guy..." he said in a leaked audio recording. "Believe me, it's true, it is true."

Britain still doesn't have a government | A week after the general election, talks between Prime Minister Theresa May and Northern Ireland's Democratic Unionist Party are still dragging on. The negotiations are taking place as a deadly inferno in a West London tower block horrifies the nation amid questions about whether the government sat on a report warning about such buildings being a fire hazard.
Where will hard Brexit hurt the most? | Chancellor of the Exchequer Philip Hammond will challenge May's vision of a so-called hard Brexit in his annual Mansion House speech tonight. An interactive map published by Bloomberg today explains some of the political calculations behind his stance, showing which parts of the country are most dependent on the rest of the European Union for trade and investment.

Macron the protectionist | Those expecting new French President Emmanuel Macron to lead the defense of global free trade may face a rude awakening. While Macron swept to power promising a "revolution'' in the way his country is run, one of his first moves was to meddle in a foreign takeover, just like most of his predecessors. 

China's rattled billionaires | The unexplained detention of Wu Xiaohui, chairman of insurance giant Anbang, is a reminder that China's super-wealthy can no longer rely on cash and connections to stay out of trouble. It seems that no one is untouchable, reflecting President Xi Jinping's efforts to curb financial risk in China and consolidate power ahead of a Communist Party reshuffle this year.

And finally... Ireland's Gerry Adams is one of the world's most controversial politicians. His supporters call him a peacemaker. Others say he used to be a terrorist. But what most people probably don't know is that he does pilates. In a speech to Ireland's parliament yesterday, Adams said he and Ireland's new prime minister had one thing in common: they both once attended the same pilates class. The premier, Leo Varadkar, admitted their "little secret," was out, agreeing Adams was the more nimble despite being 30 years older. "Perhaps he has more experience of being in a tight squeeze."

Before it's here, it's on the Bloomberg Terminal.
LEARN MORE