The London Tower Blaze Exposes a Divided Britain
By
Police fear death toll from fire may reach 'triple figures'

'Austerity went up in those flames,' one Kensington local says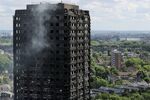 The black, smoldering shell of a London apartment block is the harrowing symbol of everything locals say has gone wrong in their city.
The inferno that ripped through the 24-story tower in the small hours of Wednesday morning left at least 30 people dead, 24 hospitalized and many more missing. For devastated locals, some still searching for loved ones, it was emblematic of how they have been abandoned by an uncaring government that spent the last seven years slashing spending on vital services.
"Austerity went up in those flames," said Sarah, a retiree who was born and brought up in London and was going past the area on the tube when she decided to stop and help. "We're not looking at a building, we're looking at a graveyard," added Siobhan, who works with children. The two women, who had just met on Thursday, didn't want to give their surnames.

Britain was already a nation divided, with parts of the population seething with anger at growing inequality in living standards and prepared to lash out at the establishment. Brexit was as much a rejection of the elite as it was a vote to leave the European Union. Prime Minister Theresa May misread the mood of the country and last week voters punished her for it.
An election on June 8 saw May lose ground to an anti-austerity opponent. Then, horrifically, people were burned to death in a tower block sitting in one of the most affluent areas in the world, after residents had complained about safety.
Political Misstep

For Soran Karimi, 31, who lives in the block opposite, it was nothing short of "murder" and "people should be prosecuted for this," he said. The residential tower of social housing was refurbished last year, but only so it didn't look out of place in one of the capital's richest neighborhoods, he said.
"They didn't do it for the benefit of the residents," said Karimi. "They're making it look nice outside because it's right on their doorstep."
May ordered an investigation into the blaze, which she called "ferocious and unexpected." Jeremy Corbyn, leader of the opposition Labour Party, told a meeting of lawmakers that "it cannot be right that a fire like this takes so many lives in the 21st century in Britain."
Both visited the site of the disaster on Thursday, with contrasting reactions from locals. May spoke with the authorities and immediately faced criticism for not engaging with survivors and other local residents.

Built in 1974, the 120-unit building was home to roughly 500 people. London Fire Commissioner Dany Cotton earlier Thursday said the number of unaccounted for residents was unknown. The Metropolitan Police expect the number of fatalities to rise. Twelve people in hospital are in critical condition.
Corbyn, whose party unseated May's Conservatives in the district for the first time ever in the election, arrived in Kensington an hour after the Conservative leader. He was seen speaking to people on the street and at St. Clement's Church, and promised to "speak for all of you" in Parliament.
A picture posted on Twitter showed him with his arms around a teary woman clutching posters of a missing girl.
"A lot of locals said it was a waste that she came," said Parvez, who has been helping out at his local mosque. Declining to give his family name, he said he saw May come to the area earlier in the day.
"It's all good paying a visit, but she did appear to just go speak to the firefighters," he said. "Jeremy Corbyn, he was more within the community. It just shows the difference between them."
May's personal ratings have plunged while Corbyn's popularity has gone up in the week since the election that saw the prime minister lose her majority, according to a poll by YouGov, which conducted interviews June 11-12.
On Friday, May will visit those injured in the fire in hospital while Queen Elizabeth II and Prince William were filmed speaking to residents and volunteers.
Cheek by Jowl
London is full of juxtaposed social groups. The City of London financial district sits adjacent to an area that's among the poorest and with the highest proportion of social housing. But nowhere is that division more stark than around Grenfell Tower.
From the higher floors, residents were able to look over to streets with some of the most expensive housing in the world. Celebrities, Russian billionaires and sports stars have homes or apartments, not all of them in use.
David Lammy, a Labour lawmaker for another part of London, said on Twitter that the government should seize homes left vacant by overseas investors to rehouse victims.
As the search for missing people enters its third day, fire chiefs say it would be a miracle if there were more survivors. The police, which began a criminal investigation, don't believe the fire was started deliberately.

Emerging from the Underground subway station, it's clear there's a community in mourning. A poster asks "Have you seen Jessica Urbano?" above the picture of a smiling dark-haired 12-year-old girl. On the way to the underpass, more posters are taped along fences, on walls and even on one man's chest. Smoke and ash are everywhere.
The pavement under the underpass is bursting with people, food and bags of clothing which are being packed into vans by volunteers. Turning up the road towards the blaze, the crowd grows larger. Some sit on the wall opposite the building, which is still emitting smoke, and just stare in silence. Others mill around, turning to neighbors, friends and strangers to express their despair at what they feel was an avoidable tragedy.
Politicians "are showing their face on camera. But that's about it," said Nelima Miah, a friend of Parvez who lives two streets away. "It's the community that's been leading, not the council or government."
Watch Next: London Mayor Promises Answers on Cause of Tower Fire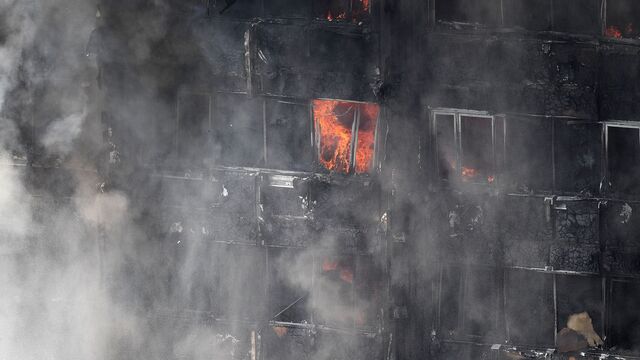 — With assistance by Alex Morales
Quotes from this Article
Before it's here, it's on the Bloomberg Terminal.
LEARN MORE