Business
A Kushner Bets on Obamacare in the Era of Trump
Josh Kushner's health insurer, Oscar, lost more than $300 million on Obamacare insurance plans. Then came Donald Trump. Its latest gamble: A deal with the Cleveland Clinic.
By and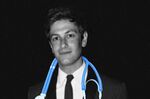 In 2012, amid the idealistic aftermath of the passage of the Affordable Care Act, Josh Kushner started a health-care company. Kushner—younger brother of Jared and brother-in-law to Ivanka Trump—launched Oscar Insurance Corp. with two Harvard Business School classmates, Kevin Nazemi and Mario Schlosser. The idea was to make the health-care system easier to navigate for patients by, for instance, improving customer service and designing bills that were easier to understand. "Our motivation was like, man, these bills suck," says Schlosser, the chief executive officer.
Oscar opened its doors in New York during the first Obamacare enrollment period in 2013. An ad campaign aimed at millennials talked up a slick iPhone app that allows patients to set up phone consultations with physicians. The company later added a "concierge" service that lets patients text with nurses to find specialists and set up appointments. Oscar attracted 16,000 members in the New York City area during its first year, many of them the type of younger, healthy customers insurers covet. In part because of its promise to bring Silicon Valley-style innovation to health care, Oscar has raised $730 million from investors including Alphabet Inc., Founders Fund—the venture capital firm run by Peter Thiel—and Fidelity Investments LLC.
Despite its star-studded investor group, Oscar's fortunes have been anything but A-list. The startup's small membership base meant it lacked the leverage to negotiate the kinds of discounts insurers depend on, forcing it to spend lavishly to build a network of doctors and hospitals that could be competitive with larger rivals. Meanwhile, demand for Obamacare plans wound up being much lower than expected, and many insurers struggled—especially Oscar. In 2015 the company lost $122 million. It lost more than $200 million last year.

President Trump's unexpected win in November sent the company into crisis mode and prompted it to rebrand itself as a champion of individual health insurance—rather than one focused exclusively on Obamacare. The company started offering plans to small businesses and has been looking for ways to expand into new markets without taking on much more financial risk. The biggest evidence of this shift in focus is set to be announced on June 15, when Oscar and the Cleveland Clinic, the internationally known Ohio hospital system, will unveil an insurance company that will sell plans in metropolitan Cleveland on the Obamacare exchange.
The plans will be co-branded, but to keep costs down, the network will be limited to the 96-year-old Ohio institution's hospitals, health centers, and affiliated doctors, including its top-rated surgeons and specialists. The two companies will share profits or losses. "The individual segment is here to stay even though there is turmoil right now," says Kevin Sears, a Cleveland Clinic executive director.
For Oscar, marrying itself to a large hospital lets it avoid the messiness of having to sign up individual health systems and doctors. Oscar has seen some early signs of success using limited networks in Texas and California. Last August the insurer announced it would offer a smaller—or, as Schlosser put it in a blog post, a "carefully curated"—network in New York. It includes just three hospital groups: Mount Sinai Health System, Montefiore Health System, and Long Island Health Network. That caused enrollment to fall, but helped Oscar narrow its losses from $46 million during the first quarter of 2016 to $26 million for the same period this year.
The New York and Cleveland deals are structured so hospitals are, essentially, paid to keep people healthy, an attempt to move beyond the usual fee-for-service model in which hospitals get paid for every visit, lab test, or surgery. Traditionally, health-care providers "are not getting paid for keeping people out of the hospital," says Schlosser. "They're getting paid for getting people into the hospital."
When patients sign up for the new Cleveland Clinic policies, which go on sale this fall, they'll fill out a questionnaire and be immediately entered in the Clinic's electronic health-record system. That will allow the Clinic to begin reaching out to those with chronic problems immediately, rather than waiting for them to show up during a crisis. Meanwhile, Oscar's concierge teams will try to guide patients to urgent-care centers or to telemedicine visits to avoid unnecessary (and costly) trips to the hospital. The irony in all this is that many people will likely be buying Cleveland Clinic plans to get access to the hospital's world-class doctors. But to make the venture work financially, Oscar will do its best to keep them away from those specialists as much as possible.
While the deal with one of the nation's best-regarded hospitals is a coup, it still may not be enough to save Oscar if Obamacare is gutted. Republicans want to replace the law, most likely with one that will reduce the subsidies that help people afford insurance and end the mandate that everyone buy coverage. Either change could mean fewer customers for Oscar and would also raise the risk that the people who do buy health plans will be sicker and more costly. The law's uncertain future is one reason Aetna Inc. and Humana Inc. have pulled out of many Obamacare exchanges. Earlier this month, Anthem Inc., the country's No. 2 insurer, said it would not offer Obamacare plans in Ohio next year.
Still, executives at Oscar and the Cleveland Clinic say concerns over Obamacare are overblown, arguing that Trumpcare—if there ever is a Trumpcare—will likely work a lot like Obamacare. The company is lobbying Washington to keep the basics of Obamacare in place, while adding a provision that would allow large companies to give their employees pretax dollars to buy health insurance on the open market. That's already allowed for small companies.
Schlosser says that since the GOP-supported health-care overhaul retains much of Obamacare's infrastructure—including the exchanges and a watered-down insurance mandate—the market will eventually stabilize. That's the hope, anyway. "To start an insurance company," Schlosser says, "you need a good degree of optimism."
BOTTOM LINE -
Money-losing health insurer Oscar is teaming up with the Cleveland Clinic. The deal is a major win for Oscar but could falter if Obamacare is gutted by Congress.
Before it's here, it's on the Bloomberg Terminal.
LEARN MORE