The Big Case
'Pharma Bro' Martin Shkreli Heads to Trial
Will the biotech entrepreneur face a karmic reckoning over charges he defrauded hedge fund investors?
By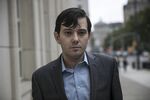 The Big Case takes a close look at must-know legal disputes involving business, finance, consumers, or regulation. This week: The U.S. Attorney's Office for the Eastern District of New York vs. Martin Shkreli
The Prosecution
Notorious for raising the price of a life-saving drug 5,000 percent, Shkreli faces a June 26 trial on charges that he defrauded investors in hedge funds he managed and misappropriated assets belonging to a drug company he started.
The Defense
Shkreli's lawyers are expected to argue that while his business dealings may seem unconventional, he lacked criminal intent and at all times relied on the advice of his corporate attorney.
What's at stake
Will the biotech entrepreneur face a karmic reckoning? Since his arrest in December 2015, Shkreli has gone out of his way to draw attention to himself. He feuded with the rapper Ghostface Killah, was banned from Twitter for harassing a female journalist, and invoked his Fifth Amendment right against self-­incrimination to avoid testifying before Congress—and then publicly called lawmakers "imbeciles." In an interview in November with the Financial Times, he said his fame would help sway a jury to acquit him, likening himself to O.J. Simpson.
The Details
Prosecutors accuse Shkreli, 34, of deceiving investors about the ­performance of two now-defunct hedge funds, MSMB Capital Management LLC and MSMB Healthcare Ltd. Prosecutors say he used $11 million from Retrophin Inc., one of the two drug companies he co-founded, to pay off his hedge funds' debts when they tanked. Lead defense lawyer Benjamin Brafman has argued in pretrial hearings that Shkreli tried to do the right thing. The pharmaceutical executive made a "Herculean effort to repay people who lost money," he said. In addition to contending that Shkreli didn't know he was doing anything wrong, Brafman is expected to argue that his client relied on his then-lawyer's advice when taking the actions described as crimes in the indictment. 
Before it's here, it's on the Bloomberg Terminal.
LEARN MORE