Trump Gives Mattis Power to Send More Troops to Afghanistan
By and
U.S. generals have recommended sending thousands more troops

Defense secretary says he hasn't made a decision on that yet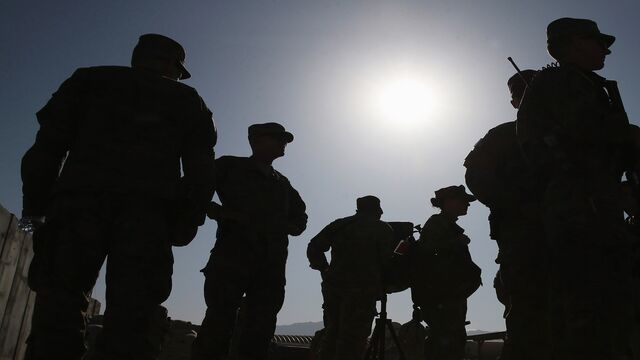 President Donald Trump has delegated authority to determine troop levels in Afghanistan to Defense Secretary James Mattis, the Pentagon chief told lawmakers.
Mattis said Wednesday at a Senate Appropriations subcommittee hearing that he hasn't made any decisions about sending more Americans into the nation's longest-running war. But in testimony earlier this week, Mattis warned lawmakers that the U.S. isn't winning the war in Afghanistan more than 15 years since U.S. forces were deployed to oust the country's Taliban leadership after the Sept. 11 terrorist attacks.
U.S. generals in charge of forces in the region in recent months recommended adding as many as 5,000 troops to about 8,400 already there. While delegating the decision to Mattis is consistent with Trump's tendency to entrust "my generals" with battlefield strategy, it also saves the president from deciding on sending more troops into a war he long ago called a lost cause.
Read More About Why the U.S. Is Weighing More Troops for Afghanistan
Afghanistan welcomed Trump's decision to let Mattis decide troop levels, with Ambassador Hamdullah Mohib saying the move "will advance the strategic objectives of the U.S.-Afghan mission and provide essential support to the brave Afghan troops fighting on the front lines of this global struggle between good and evil."
Most of the U.S. troops now in Afghanistan are limited to training Afghan fighters who continue losing territory to the Taliban, although hundreds of U.S. special operations troops are also there to conduct counterterrorist raids against al-Qaeda remnants and a growing contingent of Islamic State forces.
Civilian Casualties
Afghan civilian casualties rose to 11,418 last year, the highest since the United Nations began keeping records in 2009, the U.S. special inspector general for Afghanistan reconstruction said in a quarterly report to Congress this year.
Even adding several thousand more U.S. troops would keep levels well below the estimated peak of 100,000 deployed to the country during the Obama administration, not including foreign forces.
Highlighting the continuing security challenges in Afghanistan, three U.S. soldiers were killed in the eastern part of the country last weekend, with a fourth wounded, according to the Pentagon.
An explosion outside the diplomatic Green Zone in Kabul on May 31 killed at least 150 people and wounded more than 450.  Afghanistan's intelligence has service blamed the Haqqani Network, which is supported by Pakistan's main spy agency, for the attack. That was followed by three blasts days later at a funeral attended by politicians, including Chief Executive Abdullah Abdullah, who shares power with President Mohammad Ashraf Ghani and escaped unharmed.
Criticizing Obama
In a criticism of former President Barack Obama's ultimately frustrated efforts to withdraw all U.S. forces, Mattis said it was a mistake to pull them out on a set timeline rather than considering the readiness of Afghan troops to handle the battle on their own. Any future withdrawals, he said, would be based on "conditions on the ground."
Asked how more troops could make a difference in the long-running conflict, Mattis said "we have to put it in a regional construct," considering the role of Afghanistan's neighbors including Pakistan, India and Iran. He said he's confident some NATO allies will increase their forces in Afghanistan if the U.S. expands its presence and added that they need to retake "the higher ground" through their air-war capabilities.
"That is where NATO forces are dominant -- overhead," Mattis said.
Before it's here, it's on the Bloomberg Terminal.
LEARN MORE