Trump Modifies Travel Ban to Address Possible Expiration
By
Challengers argued ban was written to expire this week

Supreme Court considering whether to reinstate travel ban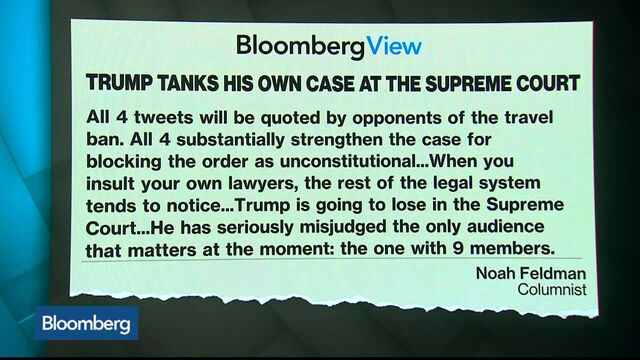 President Donald Trump revised his embattled travel ban to address arguments being made at the U.S. Supreme Court that it would expire Wednesday under its original wording.
The White House announcement comes as the Supreme Court considers whether to revive the stalled ban, which would suspend entry into the U.S. by people from six mostly Muslim nations. Under the change, the 90-day ban won't start until court orders currently blocking it are lifted.
Previously, the executive order had said the travel ban would last "for 90 days from the effective date of this order," while a separate provision set the effective date as March 16. Groups challenging the ban told the Supreme Court this week that the wording meant the travel ban would expire June 14.
"The order's effective date is explicit and unambiguous," said the groups, led by the International Refugee Assistance Project.
The challengers said the Justice Department conceded the point in a March 24 appeals court filing. In that brief, the Justice Department said the 90-day suspension "expires in early June."
Two federal trial judges blocked the travel ban, but neither order addressed the effective-date provision. Other parts of the executive order have already taken effect. Federal appeals courts upheld the core of both rulings, prompting the administration to turn to the Supreme Court.
Issue of Clarification
In a new Supreme Court filing Wednesday, acting Solicitor General Jeffrey Wall called the Trump memo a "clarification." He said the court orders blocking the ban had implicitly delayed the effective date as well.
Because the travel ban "was enjoined before it could take effect, that 90-day suspension has not yet begun to run, and will do so only once the injunctions are lifted or stayed," Wall wrote.
The White House announced the move Wednesday in a memo from Trump to Cabinet officials. The memo said Trump was taking the step "in the interest of clarity."
"I hereby declare the effective date of each enjoined provision to be the date and time at which the referenced injunctions are lifted or stayed with respect to that provision," the memo said. "To the extent it is necessary, this memorandum should be construed to amend the executive order."
The memo directs government officials to start implementing the travel ban 72 hours after courts clear it to take effect.
The Supreme Court is poised to act by the end of the month. The administration is asking the court to hear the government's appeal during the nine-month term that starts in October. The administration is also urging the court to let the ban go into effect during the interim -- a request that could decide the policy's fate as a practical matter, given its temporary nature.
Before it's here, it's on the Bloomberg Terminal.
LEARN MORE