markets
Tillerson Signals Easing Policy Toward Russia on Ukraine Accord
By
Secretary says U.S. doesn't want to be 'handcuffed' by deal

Comments come as Congress considers expanding sanctions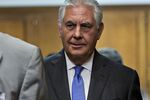 Secretary of State Rex Tillerson signaled the U.S. could ease off demands that Russia abide by the Minsk agreement to end the conflict in Ukraine, telling lawmakers that the administration doesn't want to be "handcuffed" if Moscow and Kiev can settle their dispute another way.
Tillerson made the comment Wednesday to House lawmakers who may soon be weighing tougher sanctions against Moscow over its role in the Ukraine conflict. A bipartisan group of senators this week reached a compromise on legislation that would expand penalties imposed on the Kremlin in 2014. That deal would prevent the president from easing or lifting sanctions without approval from Congress.
Tillerson said the administration wants the flexibility to intensify or ease sanctions against Russia depending on whether relations improve. He emphasized that he sees the Ukraine issue as separate from evidence that Russia meddled in the 2016 U.S. election.
"It is very possible that the government of Ukraine and the government of Russia could come to a satisfactory resolution through some structure other than Minsk but would achieve the objectives of Minsk, which we're committed to," Tillerson said at the hearing Wednesday. "So our caution is I wouldn't want to have ourselves handcuffed to Minsk if it turns out the parties decide to settle this through a different agreement."
For a QuickTake on the Russia-Ukraine standoff, click here
Tillerson's remarks generated immediate resistance from Representative Eliot Engel, a New York Democrat.
"I hear what you're saying, but I disagree because I believe that the only thing that Russia understands is tough talk, and if they think that we're somehow willing to relax sanctions before they've complied with the Minsk framework and left Crimea, I think it will just encourage Putin to continue his bullying," Engel said of Russian President Vladimir Putin.
The death toll in Ukraine's three-year war with Russian backed separatists has surpassed 10,000, with the conflict zone still enduring repeated flare-ups despite a cease-fire, according to the United Nations. Deaths surged 48 percent in the three months through mid-May, compared with the previous reporting period through Feb. 16, the UN said, warning that a pattern from recent years where hostilities increased in the run-up to summer may soon repeat itself.
Tillerson's comments marked a shift from the stance he took at a meeting of NATO foreign ministers in Brussels in March, when he said the U.S. wouldn't ease sanctions on Russia unless it met its commitments under the Minsk deal. At the time, he thanked Germany and France for leading efforts to find a solution for Ukraine.
"We will continue to support their work to accelerate the implementation of the Minsk agreements," Tillerson said at the time. "We will continue to hold Russia accountable to its Minsk commitments."
Referring to Russia's role in last year's presidential race, Tillerson said in his opening remarks Wednesday that he agrees "with the sentiment that has been conveyed by several members from both parties that Russia must be held accountable for its meddling in U.S. elections."
— With assistance by Daryna Krasnolutska
Before it's here, it's on the Bloomberg Terminal.
LEARN MORE