Wine
The Three Wines That Should Always Be in Your Fridge
Anticipate almost any wine-related situation with these three perfect bottles.
By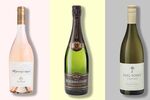 Julia Child always kept a half bottle of Champagne in the refrigerator so she had something to sip on (and keep herself enthused) while cooking. Me too—but I've expanded her advice. I always have three bottles of wine on my fridge door shelves. So should you. 
Picture it: The moment you arrive home on a hot summer night, you've got something refreshing to open even if you didn't have time to swing by your local retailer. When friends drop by, you have a bottle to pour without hauling out ice and a bucket or putting it in the freezer and waiting 30 minutes for the wine to cool. Immediate gratification is the way we live now, which is why most wine shops have a grab-and-go selection in a cooler. 
And if merely savoring a glass while you chop vegetables fresh from the farmers market is what you need, no problem. 
The rationale for having a stash of already chilled bottles isn't all that different from having the basic essentials to make a meal (tomato sauce, pasta, etc.) on hand. 
The important question is what those wines should be. We're talking about white, rosé, and sparkling wines, of course. Yes, I'm a fan of serving Beaujolais and other light reds slightly cool, but some people, like actress Diane Keaton, claim to love them super-chilled. Sad! (Refrigerator-cold reds taste metallic.) 
Fridge wines have to be versatile enough to go with just about every food and occasion and should be high on fruity deliciousness but not too serious or complex. Whenever possible, I favor whites with screw caps so I don't even have to retrieve a corkscrew from the kitchen junk drawer to get at what's inside. 
A Crisp, Aromatic White 

As I write this, the temperature on my deck is 94 degrees and a light, crisp, refreshing white to beat the heat will be what I crave most at the end of the day (and even before). But trust me, this style of wine is appealing at any time of the year.
My go-to bottles? Zingy sauvignon blancs, especially those from New Zealand because just about every one of them packs a lot of flavor and aroma for the price. In my fridge right now is 2016 Dog Point Sauvignon Blanc ($20).  Like so many sauv blancs from that country, it has bright floral-herbal aromas and juicy, citrusy, tangy notes that make it easy to sip without food, yet also pair well with goat cheese, cold takeout salads, grilled fish, Thai curry, and much more. 
A surprising number of other whites fit this style profile. Think Portugal's light, fresh vinho verdes, pinot blancs from Alsace, and Italian pinot grigio and friulano. 
An Easy-Drinking Sparkling Wine 

There's always a reason to toast something—a sudden bonus, a friend's promotion, a new beach house, leaving (or returning) from a trip—which is why one of my three bottles is always, always a bubbly.  
A glass of fizz makes just about everything better, even the latest political crisis. Bright, fruity examples also happen to be fantastic with salty fried chicken, Chinese takeout, and Sunday morning brunch when you're still lazing about in that bathrobe you stole from a fancy hotel. 
I pick wallet-friendly sparklers, like the fresh, lively nonvintage Roederer Estate Brut ($23), made in California's cool, fog-bound Anderson Valley at the outpost of French Champagne house Louis Roederer. Another mainstay in my house is 2014 Raventos i Blanc L'Hereu Blanc de Blancs brut ($20), a cava I never get tired of drinking. A good prosecco or creamy crémant de Bourgogne is also a good choice. 
And if you only drink Champagne, my favorite for the refrigerator is the vibrant, spicy, ever-reliable nonvintage Louis Roederer Brut Premier ($45). 
A Bright, Savory-Fruity Provençal Rosé

Hey, it's summer, so a chilled pink wine is a must to have on hand—for me and also for friends, who, not surprisingly, lap it up. Let's face it, drinking rosé from Provence is a way to fantasize you're on a yacht in Saint-Tropez. Demand for examples has reached insatiable thirst levels, with imports in 2016 up almost 50 percent over 2015. 
These are wines you can day-drink, pour with tapas, grilled vegetables, fish stews and salads, and barbecued chicken, and sip on a rooftop or deck as the stars come out. 
I rotate my picks among several producers. Right now, it's the dry, silky-textured, elegant-for-the-price 2016 Caves d'Esclans Whispering Angel ($22). Ubiquitous in the Hamptons and on the Côte d'Azur, this wine is always delicious; the blend of grenache, cinsault, and rolle grapes gives it a tangy, mineral, strawberry-and-spice taste you don't get tired of.  There are dozens of other great examples in the same mold: Mas de Cadenet ($20), Château Gassier ($19), Domaine de la Mordorée ($20), and Commanderie de Peyrassol ($24).  
A slightly cheaper alternative to Whispering Angel that will impress your friends and satisfy your cravings is the certified organic 2016 Mas de Gourgonnier Les Baux de Provence ($18), a lush-textured, spicy mix of grenache, cinsault, mourvedre, syrah, carignan, and, surprisingly, cabernet sauvignon grapes, which gives the wine more oomph than many rosés from the region. 
Before it's here, it's on the Bloomberg Terminal.
LEARN MORE