Top GOP Lawmaker Remains in Critical Condition After Shooting
By , , and
Trump pays visit to hospital where Scalise is being treated

Assailant died of injuries sustained in shootout with police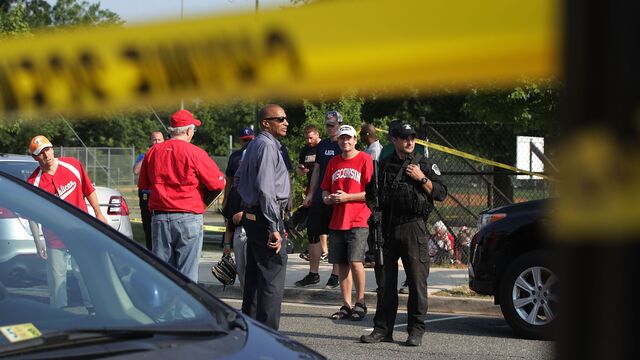 House Majority Whip Steve Scalise remained in critical condition Wednesday night after he and four others were wounded in a shooting at a congressional baseball practice in Alexandria, Virginia, near the nation's capital.
Scalise, the third-highest ranked House Republican, was shot in the hip. The bullet tore through his pelvis, fracturing bones, injuring internal organs and causing severe bleeding, according to MedStar Washington Hospital Center. The 51-year-old underwent emergency surgery and received multiple units of blood, the hospital said, adding that he'll need additional operations.

President Donald Trump and his wife Melania visited the hospital Wednesday night. They spoke with Scalise's wife and sat at the gravely injured Louisiana lawmaker's bedside. Press Secretary Sean Spicer described it as a somber scene.
"Just left hospital. Rep. Steve Scalise, one of the truly great people, is in very tough shape -- but he is a real fighter. Pray for Steve!" Trump said on Twitter.
A congressional staffer, two Capitol Police officers and a lobbyist were also wounded in the early morning attack. The gunman was identified as 66-year-old James T. Hodgkinson of Belleville, Illinois. He died later from injuries sustained in a shootout with police.
Representative Mo Brooks of Alabama, who witnessed the shooting, told Bloomberg TV that he heard a "loud explosion" and saw a middle-aged man with a rifle as he looked down the third-base line. He and other lawmakers sought cover on the ground behind the batting cage and later in the dugout as more shots were fired. Brooks said he heard Scalise scream.
"While this was going on, the gunfire is coming nonstop from the rifle," Brooks said. He said Scalise left a "trail of blood."
"There could have easily been 25 deaths," Representative Roger Williams of Texas told reporters later in the day, wearing a medical boot and using crutches because of an ankle injury he suffered in the melee. "The thin blue line held today," he said, referring to the police who fired on the assailant.
Williams said his aide, Zack Barth, was shot in the leg but immediately began sending text messages that the group was under fire and needed help. Barth has been released from a hospital, the lawmaker said.
Matt Mika, Tyson Foods Inc.'s director of government relations in Washington, was also shot and taken to a local hospital, the company said in a statement. Tyson said he was in critical condition following surgery. Mika, a former college baseball player, was helping coach the GOP team, the statement said.
The two Capitol Police officers who were shot are being treated at a local hospital and are in good condition, said Capitol Police Chief Matthew Verderosa.
More Coverage: Shooting Suspect's Story: Tales of Gunfire and Online Rants
GOP Representative Jeff Duncan of South Carolina told reporters that he informed Alexandria police about a brief encounter he had in the parking lot with a man he believed to be the suspected shooter. Duncan said the man asked him whether the team was made up of Republicans or Democrats.
Asked whether he believes they were targeted because they were Republicans, Duncan replied, "I would assume so."
FBI special agent Timothy Slater told reporters that authorities are trying to determine Hodgkinson's motive and why he was in the Washington area.
"It's really raw at this moment," said Slater, who's a special agent in charge of the Washington field office. "We're exploring all angles," including the possibility of terrorism.
The gunman had apparently been in the Alexandria area since March and was living out of his van near the baseball field, Slater said. On social media, Hodgkinson had previously posted messages expressing disdain for Republicans.
The FBI said in a statement that it was investigating his associates and online activity as it searched for a motive. Authorities are also examining two weapons: a rifle and a handgun.
Gunman's Record
An Illinois local newspaper, the Belleville News-Democrat, posted a photo of Hodgkinson protesting outside a local post office in 2012, holding a sign saying "Tax the Rich." He has a record of arrests on relatively minor charges, including failing to obtain electrical permits, driving under the influence and resisting a police office, according to the paper.
Senator Bernie Sanders of Vermont said on the Senate floor that he had been informed that the shooter "is someone who apparently volunteered on my presidential campaign. I am sickened by this despicable act." He added, "I condemn this action in the strongest possible terms."
Republican Representative Dave Brat of Virginia told reporters at the Capitol that Congress should consider increasing security presence at off-campus events and allowing members to carry guns to protect themselves.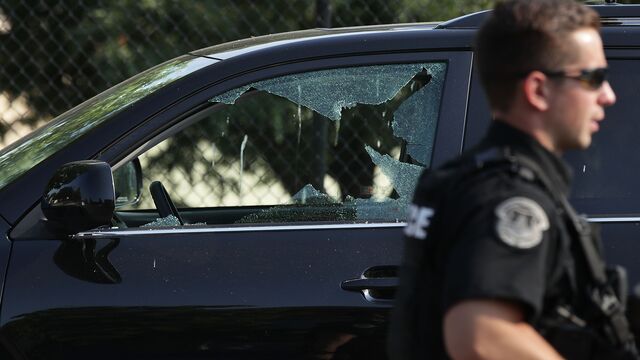 "Our lives were saved by the Capitol Hill police. Had they not been there I think it would have been a massacre," Senator Rand Paul of Kentucky told CNN. "You are completely helpless," he said, having no defenses and being unable to help those who were injured.
"The field was basically a killing field. If you were to run out there while the shooter was still shooting, he would have shot anybody," Paul added. "He was shooting people as far away as right field. That's probably, what, 75 yards away."
Brooks said, "They were single shots in rapid succession." Earlier on CNN, he said, "There must have been 50, 100 shots fired."
Brooks said members of the security detail fired back with pistols at the shooter until the shooter was tackled to the ground.

Brad Wenstrup, a Republican congressman who served as a military surgeon in Iraq, treated Scalise after the shooter was down, Brooks told CNN. Brooks said he and other lawmakers tried to apply a tourniquet with his belt for one injured person who was bleeding, he said.
Michael Brown, chief of the Alexandria police, said the incident was reported shortly after 7 a.m. local time. He said local police responded within three minutes.
"Two of our officers engaged in gunfire, return fire," he told reporters, but declined to give details on the victims or the shooter. "It's an active scene. We have a lot of witnesses who we're having to interview."
House Republicans held a members-only briefing in the late morning, beginning with a prayer for the victims.
Afterward, Speaker Paul Ryan said on the House floor that lawmakers don't "shed our humanity when we enter this chamber."
"I ask each of you to join me to resolve to come together to lift each other up, to show the country, to show the world, that we are one House," said Ryan of Wisconsin. Minority Leader Nancy Pelosi of California added that the shooting was "an injury in our family."
The House canceled floor votes Wednesday, and a number of congressional hearings were postponed, including one on a proposal to loosen restrictions on firearm silencers.
The House Republican baseball team has been practicing for weeks in early mornings at the Alexandria site for Thursday's annual congressional baseball game against Democratic lawmakers' team. Ryan announced that the game will go on as scheduled at Nationals Park in Washington, home of the city's professional baseball team.
Trump, who canceled a planned event Wednesday at the Labor Department, doesn't plan to attend the ballgame after the Secret Service advised against it out of concern for his and other people's safety, an administration official said.
More Coverage: Lawmaker Security Concerns Deepen After Virginia Shooting
The game is one of Washington's greatest shows of bipartisanship and camaraderie, and preparation by both teams is serious. Much partisan pride is at stake in the charity contest that dates to 1919. The GOP team had been particularly upbeat -- and also on edge -- having finally won the contest last year after a long losing streak. 

Scalise has been an avid participant in the game since arriving in Congress in 2008. As whip, he is the chief vote counter in the Republican conference.
House Democrats were at their own, separate practice when the attack took place, and they prayed for their colleagues on the field, according to a tweet from Representative Ruben Kihuen.
Brooks said the assailant "was trying to take out our security detail" before he turned to lawmakers.
Paul told MSNBC that he was in the batting cage when he first heard one isolated shot and then a rapid succession of shots. He saw Scalise dragging himself to the outfield.
Paul also said that the security detail was present because Scalise is in a leadership position in Congress. Otherwise there wouldn't have been any officers present.
Representative Joe Barton, manager of the GOP baseball team, was at the practice with his young son Jack.
"I think the security detail saved a lot of lives because they attacked the shooter," Barton told reporters at the Capitol with his son standing by his side. "There were dozens if not hundreds of shots fired. It was scary."
— With assistance by John Hughes, Chris Strohm, Terrence Dopp, Alan Levin, John McCormick, Toluse Olorunnipa, Anna Edgerton, and Arit John
Before it's here, it's on the Bloomberg Terminal.
LEARN MORE