Romanian PM's Job at Risk as Ruling Party Assesses Record
By
PM Grindeanu rejected Social Democrat leader's call to resign

Party meets Wednesday to evaluate government's performance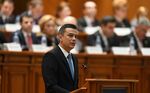 Romanian Prime Minister Sorin Grindeanu's job is on the line as the ruling party meets to discuss his government's performance following signals he may be pushed out.
The premier, who took up his post in January, refused a demand from Social Democratic leader Liviu Dragnea for him to resign, according to two people with knowledge of the talks who asked not to be identified because the information isn't public. Grindeanu called efforts to force him out an "unjustified public execution" and reiterated his plan to stay, the Digi 24 TV station reported Wednesday.
He canceled his public agenda for the day and will await the result of the party meeting scheduled for 4 p.m. in Bucharest. Dragnea said he's unhappy with the government's performance in implementing the electoral program and confirmed that the party leaders will discuss "potential resignations" of cabinet members during Wednesday's meeting.

"This is a new attempt by Dragnea to reinforce his power over the government after he felt the relationship with the premier wasn't as he wanted it to be and Grindeanu was becoming more independent," said Andrei Taranu, deputy dean at Bucharest Political Science University. "It's a show of force."
Grindeanu is overseeing one of the fastest-growing economies in the European Union and managed to ride out the largest protests since the fall of Communism in January, prompted by proposals to ease punishment for corrupt officials. While Dragnea had sought to become prime minister when his party was voted back into power late last year, he's banned from taking the position because of a criminal conviction. Grindeanu was his second pick for premier after President Klaus Iohannis, a political rival, rejected his first.
The renewed political turmoil had little impact on the leu, which traded little changed at 4.5664 per euro at 4:19 p.m. in Bucharest.
Dragnea had earlier flagged a potential change of government as the party evaluates its efficiency in meeting electoral pledges that include further tax cuts and salary increases for state employees.
"I don't want us to reach that point, but if we come to the conclusion that there's no other way, then we'll have to propose it," Dragnea said Sunday in televised comments.
Should Grindeanu refuse to quit after a negative vote from his party, the ruling coalition could topple him through a no-confidence motion in parliament, which it controls.
"Dragnea already has a strategy of being both the support and the opposition to the government, so that there's no room for the actual opposition," said Radu Magdin, a political consultant who previously worked with the Social Democrats. "Grindeanu will be replaced, most likely this week. He resisted as much as he could but he doesn't have the party's support anymore."
Before it's here, it's on the Bloomberg Terminal.
LEARN MORE