Mueller, Lawmakers Meet to Avoid Conflicts in Russia Probes
By and
Leaders of Senate Intelligence call session 'constructive'

Special counsel to meet with members of House committee soon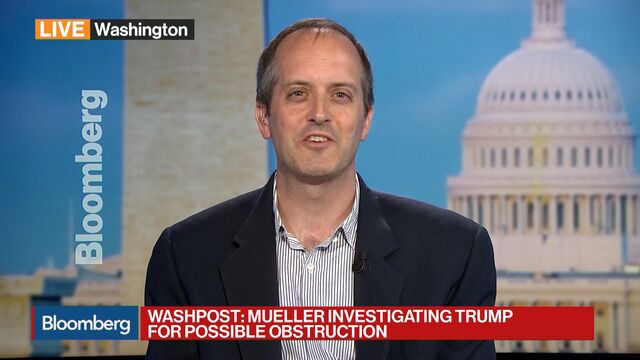 Special Counsel Robert Mueller met with the two top members of the Senate Intelligence Committee Wednesday to discuss preventing conflicts in their separate investigations into Russian election interference, and he's set to meet with House Intelligence panel leaders in coming days.
Mueller has been building a team of investigators for a wide-ranging inquiry into Russia's meddling in the 2016 U.S. presidential campaign and whether any associates of President Donald Trump colluded in that effort. The two congressional committee are engaged in their own probes. 
Lawmakers on both sides of the Capitol have been wanting Mueller to provide details on what areas his Russia investigation is covering, amid concerns his inquiry might overlap or conflict with their own probes.
Senate Intelligence Chairman Richard Burr, a North Carolina Republican, and the panel's vice chairman, Mark Warner, a Virginia Democrat, said in a joint statement that the meeting was "constructive," but they gave no details. Mueller's spokesman, Peter Carr, declined to comment.
A spokesman for Representative Adam Schiff, the top Democrat on the House committee, said Mueller will meet with members of the panel this week or next.
Burr and Warner had been seeking the meeting since Mueller's appointment as special counsel a month ago, according to a person familiar with the probe.
John Cornyn, the Senate's No. 2 Republican and a member of the Intelligence Committee, said the effort to avoid conflicts would be an "ongoing process."
Different Purposes
"We're not the Department of Justice, we're not the FBI, and so our investigation and oversight are for a different purpose," Cornyn said. "Certainly we need to know the facts and I think we've been pretty diligent about that, but we don't want to trip up the special counsel inadvertently."
Cornyn said he would like the Senate investigation to put more focus on the Russian interference and how to prevent such attacks. In addition to the hacking of Democratic Party email systems, Russia's cyberattack during the campaign included intrusions into state voter databases and software systems, according to people with knowledge of the U.S. investigation.
"I think we've got plenty of work to do within the intelligence community itself on how the Russians got so good at this game and caught us flat-footed and what the appropriate countermeasures might be in order to deal with this in the future because it's not going to get any easier," he said.
Read More About Twists and Turns in the Trump-Russia Probe
The Senate committee has already begun taking testimony in both closed and open sessions from the nation's intelligence chiefs. Former FBI Director James Comey, who was fired by Trump, and Attorney General Jeff Sessions, who recommended Comey's dismissal and has recused himself from the Russia investigation, both have testified.
Mueller had cleared Comey to testify last week.
The Senate panel also plans to hear at some point from Jared Kushner, Trump's son-in-law and one of his closest White House aides. Longtime Trump lawyer Michael Cohen said Tuesday he's been subpoenaed to testify before the House Intelligence Committee in September.
In addition, the House Intelligence Committee has written to Comey to request that all notes or memoranda in his possession regarding conversations with Trump be turned over by June 23. The committee knows Mueller has already been briefed on Comey's memos.
— With assistance by Margaret Talev, and Chris Strohm
Before it's here, it's on the Bloomberg Terminal.
LEARN MORE