Mnuchin Says Global Financial Institutions Need to Tighten Belts
By and
U.S. to stay top donor as biggest economy: Treasury secretary

Trump has proposed $650 million in cuts to development lenders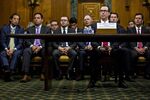 Treasury Secretary Steven Mnuchin said international financial institutions such as the World Bank need to operate more efficiently as the U.S. focuses on streamlining its own government operations.
In fiscal 2018 budget proposals, the Trump administration called for cutting funding for the World Bank and other multilateral development lenders by $650 million over three years.
Despite the reductions, the U.S. will "continue to lead on issues of global importance," Mnuchin said prepared testimony before the House subcommittee on State, Foreign Operations and Related Programs on Wednesday. The U.S. will remain a top donor to multilateral development banks, given that it's the biggest economy in the world, he said.
The administration's budget proposal "should send a message that the international financial institutions need to operate more efficiently," Mnuchin said. "Just as our federal government is streamlining, so too must these entities."
The World Bank was conceived during the Second World War to fund Europe's reconstruction, but has evolved into a lender that supports development in poor countries and emerging markets. The bank's sister organization that was founded around the same time is the International Monetary Fund, which funds countries in balance-of-payments difficulties.
The U.S. will preserve investments "where they make sense," while balancing priorities to ensure other parts of the government are funded.
President Donald Trump is asking Congress for $3.6 trillion in spending cuts over the next decade, which would mean steep reductions in food and housing assistance as well as health care programs.
— With assistance by Saleha Mohsin
Before it's here, it's on the Bloomberg Terminal.
LEARN MORE