Hammond to Make Public Case for Brexit That Protects Economy
By and
Chancellor will urge move away from focus on immigration

He, Davidson, Rudd forced May to moderate her Brexit stance
Follow @Brexit for all the latest news, and sign up to our daily Brexit Bulletin newsletter.
U.K. Chancellor of the Exchequer Philip Hammond will make the case for a new path for Brexit that focuses on protecting jobs and economic growth, in his first public appearance since the Tories' disastrous general election result.

Hammond will use his annual Mansion House address to the City of London on Thursday to push for a so-called pragmatic Brexit, according to a Treasury official who asked not to be identified. His move reflects Prime Minister Theresa May's failure to win voter support for her policy of making immigration control the priority in leaving the European Union.
The prime minister, fighting to stay in office, was forced to abandon her hardline Brexit rhetoric earlier this week following pressure from Hammond, Home Secretary Amber Rudd and Scottish Conservative leader Ruth Davidson, according to a government official, who asked not to be identified. May told a meeting of the so-called 1922 committee on Monday that she accepted there was a broad range of views on Brexit within the Party and that she would work to reflect that.
'Vital Financial Support'
Hammond will use part of his speech to set out how the Treasury will ensure that infrastructure projects and business start-ups that currently get support from EU funds will be able to get support instead from U.K. institutions after Brexit.

"Investors need certainty in order to continue to support the U.K. economy and create jobs as we leave the EU," Hammond will say, according to the Treasury. "That is why we will fortify the vital financial support that helps businesses to grow."
Brexit Negotiations to Shape U.K.'s Economic Outlook - Bloomberg Intelligence
A week ago Hammond faced the possibility of losing his job. But since May instead lost her House of Commons majority, he has emerged as a key figure in Brexit talks. Hammond is positioning himself as the main negotiator within the cabinet to hammer out a blueprint for Brexit acceptable to the whole party, the Treasury official said.
Over the past year, Hammond is said to have softened some of Brexit Secretary David Davis's positions, persuading him to accept a period of transition for financial services. First Secretary of State Damian Green, recently appointed by May, is also said to be an ally of the chancellor's.
From the early days of May's government, Hammond stood out as the one member of her cabinet pushing for maximum ties with the EU after Brexit. May's focus on making immigration control a red line subsequently forced a Brexit stance that included abandoning single market membership. She also confirmed the U.K. would quit Europe's Customs Union, despite Hammond's skepticism about the economic costs of such a move.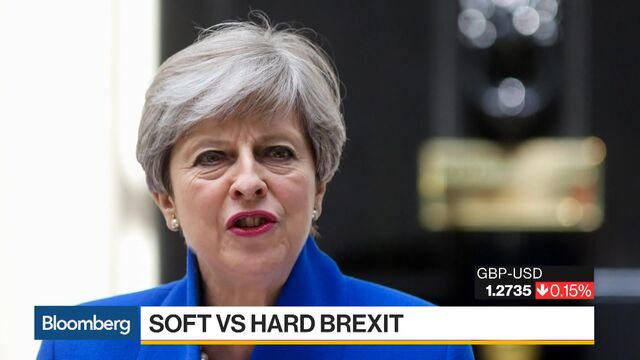 On the eve of becoming chancellor, Hammond -- then the foreign secretary -- told an audience of bankers that "access to the single market is crucially important to your industry," and "we want to work collectively with you" to ensure it's maintained. Hammond told Bloomberg in an October interview that quitting the customs union, as some colleagues in government have recommended, could spell a "frictional cost" for exporters by imposing greater border regulations on them.
Until the election, such warnings were brushed aside, on the grounds that voters who had backed Brexit were more concerned with cutting immigration that anything else. But the election result showed the risks of ignoring economic concerns. Against a background of falling real wages, nearly as many people opted for the Labour Party's promise to open the government spending taps as backed the Tories, with their focus on Brexit.
Before it's here, it's on the Bloomberg Terminal.
LEARN MORE