China Braced for Fed as IMF Raises Outlook, Data Shows Stability
Bloomberg News
PBOC has tightened after last two Fed interest rate increases

Signs of cooling growth may mean PBOC doesn't hike this time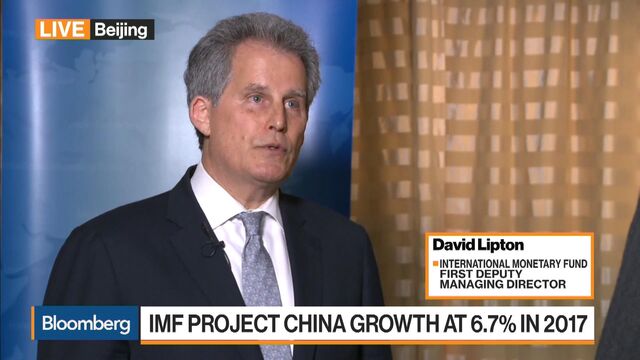 China's wobbly economy threw sand in the wheels of the Federal Reserve's tightening plans back in late 2015. Today, the world's number two economy poses no such constraint.
The International Monetary Fund was the latest to acknowledge China's improved outlook, raising its growth forecast for 2017 for a second time this year to 6.7 percent on Wednesday. Hours earlier, data showed industrial output steadied in May and the consumer remained a prop for growth, while a pull-back in property investment suggested curbs were starting to bite.
With growth firm for now, capital outflows moderating, foreign exchange reserves swelling again and the yuan strengthening, the People's Bank of China may be relieved that it won't feel obliged to match a widely anticipated interest-rate increase from the Fed later Wednesday. That's because with the outlook for the rest of the year uncertain, it may be time for a pause in tightening measures.
While China followed the Fed's past two moves with increases in its reverse repo rates, it's unlikely to do so this time around, according to Bloomberg Intelligence economists.
"With rates on hold, China's policy makers will be scrambling for alternative means to support the yuan and advance the deleveraging agenda," Bloomberg Intelligence's Chief Asia Economist Tom Orlik wrote in a note.

Click here for a look at how the spotlight will swing to the PBOC after the Fed's decision
China's stability is playing a central role in the world economy's best period of synchronous growth among developed and emerging economies this decade. Trade volumes have recovered on the back of Chinese demand and the nation's factory prices, while coming off the boil, are helping to keep a floor under anemic global inflation.
The $11-trillion economy enjoyed its first back-to-back growth acceleration in seven years in the first quarter and, although economists project slower expansion in the second half, it isn't expected to fall short of the government's 6.5 percent full-year growth objective.
That strength has allowed the PBOC to modestly tighten policy to protect the yuan. If Janet Yellen pulls the trigger on another increase, China will be able to handle it, IMF First Deputy Managing Director David Lipton told reporters in Beijing.
Still, the IMF official also cautioned that deep reforms are still needed if China's economy is to head off the risk of a steep correction further down the road.  
"It is critical to start now while growth is strong and buffers sufficient to ease the transition," Lipton said in a press release after the annual Article IV consultations.
Read more: IMF lifts China's growth estimate for second time this year
China's policy makers can now point to progress in the effort to prevent credit growth turning into a bubble that risks taking the economy down with it when it pops. The pace of growth in M2 slowed to the lowest on record in May, data released later Wednesday showed.
Aggregate financing, a measure of total credit to the economy, also came in below estimates, at 1.06 trillion yuan ($156 billion) in the month. The PBOC said slower M2 growth will become a "new normal."
Evidence of a robust economy were on display in a slew of data released earlier in the day, pointing to an economy that continues to defy expectations of a sharp slowdown.
Industrial output rose 6.5 percent from a year earlier
Retail sales increased 10.7 percent, matching economists' projections
Fixed-asset investment expanded 8.6 percent in first five months, trailing estimates as property development investment slowed
Bloomberg's monthly China GDP tracker shows growth at 7.14 percent in May, little changed from April

While a weaker property market amid tightening home-purchase curbs in some cities, along with fading producer reflation, pose risks, the overall robust data underscores the resilience of businesses and consumers even as regulators push to reduce risks in shadow banking. Given the need for stability ahead of a twice-a-decade transition of top Communist Party leaders later this year, the PBOC could always switch gears and ease should growth stall.
"Even if the Fed tightens, the PBOC will probably ease at the margins in the second half of this year," said Larry Hu, head of China economics at Macquarie Securities Ltd. in Hong Kong. "I don't think the Fed move will be a big constraint on the PBOC."
— With assistance by Enda Curran, Yinan Zhao, and Xiaoqing Pi
Quotes from this Article
Before it's here, it's on the Bloomberg Terminal.
LEARN MORE