Brexit Bulletin: Still on Track
By
May given chance to pull back from Brexit by Macron, Schaeuble

Key changes at Brexit department ahead of the start of talks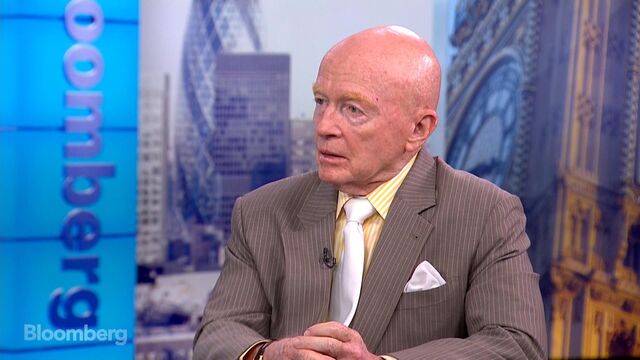 Sign up to receive the Brexit Bulletin in your inbox, and follow @Brexit on Twitter.
Prime Minister Theresa May is not running short of outside advice.
French President Emmanuel Macron said the "door is always open" for Britain if it overturned Brexit, echoing a message from German Finance Minister Wolfgang Schaeuble.

Meantime, former Prime Minister John Major told May that a "hard Brexit was not endorsed by the electorate" and her predecessor, David Cameron, said she should talk to the opposition Labour Party because there "will be pressure for a softer Brexit" and Parliament "deserves a say."
The interventions from the two former premiers will embolden those Tory ministers who are privately plotting to soften May's stance on Brexit. Chancellor Philip Hammond is reportedly advocating Britain stay in the customs union so it can enjoy tariff-free commerce although it would lose the ability to line up its own trade deals.
Yet there are many reasons to think that the U.K. won't be walking through Schaeuble's doors or even moderating its Brexit strategy by much.
Firstly, Brexit remains government policy with Downing Street Spokesman James Slack saying in response to Schaeuble's comments that "the British people voted to leave the European Union and we will be delivering on that will."
Not only that, but Labour Party leader Jeremy Corbyn still backs Brexit. Adding up last week's votes for the Tories and Labour finds more than 80 percent of the electorate picked a party committed to leaving the EU. According to YouGov, 68% of those polled last month either voted for Brexit or want the job finished.
Reversing course completely would therefore require a new referendum or the election of a party which ran pledging a u-turn.
"Our position is settled, we try to get the best deal we can," former Tory leader Iain Duncan Smith told Bloomberg.
Not So Soft?
As for the hardness, Conservative and Labour officials have said since the election that they still anticipate pulling out of the single market. Carsten Nickel of Teneo Intelligence noted this shows how far the debate has moved in the past year.
"Today, even a comparable small improvement such as continued customs union membership seems enough for Brexit to be labelled soft. If anything, the hard Brexit consensus has therefore become more entrenched."
Nickel calculated that voter migration from Labour to the Conservatives last week was largest in places which voted Leave but had a Labour lawmaker and that the Tories also attracted most of the disgruntled supporters of the U.K. Independence Party. And Bloomberg found that of the 32 new Conservative members of parliament, at least 18 supported leaving the EU in the referendum.

The government is "more dependent on euroskeptic votes than previously," Nickel said. "Instead of softening Brexit, the elections have put domestic polarization and instability on vivid display. If anything this further raises the risk of the U.K. stumbling out."
Read more: These graphics show how the U.K. delivered a hung Parliament
Shake-Up
In a visit to Paris on Tuesday, May said the Brexit talks will begin next week as planned.
But back home she's already shaking up the team charged with delivering the divorce. That points to the difficulties she will have in plotting an exit route she can pursue.
Out are David Jones, who led the Welsh arm of Leave campaign, and George Bridges, who quit the role of ushering Brexit legislation through Parliament. Lucy Neville-Rolfe left the Treasury, where she liaised with the City of London on Brexit.
In as Brexit minister is Steve Baker, who has run the European Research Group, a caucus of Tory lawmakers determined to hold the government to a full departure from the EU. They have a staff, and coordinate their interventions through a WhatsApp group.
May's challenge is to keep this group on side at the same time as those supporting a more moderate position. The appointment of Baker may also have more to do with consolidating her position than signaling a Brexit course.
On Tuesday afternoon, ahead of his appointment being announced, Baker set out his current position on Twitter:
"The language of 'hard' vs 'soft' Brexit is so misleading. We need a good, clean exit which minimises disruption and maximises opportunity."
May will today reengage with Northern Ireland's Democratic Unionist Party as she seeks its support for her program. What will the unionists ask for in return? According to those who discussed the outlines of a possible deal with the party two years ago, the answer is £1 billion ($1.3 billion).
On the Markets
May's Monday night vow to seek a national consensus on Brexit reduced the allure of gilts and they headed for their biggest drop in almost four months on Tuesday after inflation surged to the fastest in four years. The pound rose.
Signs the government is set to take more steps to end fiscal austerity will also likely undermine demand for British bonds.

Private wealth in Western Europe is set to fall behind the Asia-Pacific region for the first time this year, partly as a result of the political and economic uncertainty unleashed by Brexit, according to the Boston Consulting Group
And Finally…
A record number of Britons took German citizenship last year as the U.K. voted to leave the EU.
Authorities in the region's largest economy granted 2,865 passports to Brits, an increase of 361 percent from 2015, according to the Federal Statistics Office.

For more on Brexit follow Bloomberg on Twitter, Facebook and Instagram, and see our full coverage at Bloomberg.com
Before it's here, it's on the Bloomberg Terminal.
LEARN MORE