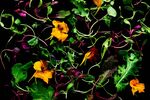 Yes, there's a world where people pay almost $50 a pound for tiny lettuces. They assemble religiously in the crowded northwest corner of Manhattan's Union Square Greenmarket, where the eerily perfect Windfall Farms stall appears on Saturdays and Wednesdays. While some stands radiate a hippie-casual vibe, at Windfall the exquisite, vibrantly colored vegetables are treated with the care one sees in a Madison Avenue boutique. Signs caution customers against touching the greens, because they've already been hand-washed several times.
That care, systematic throughout the life cycle of these little lettuces, doesn't come cheap. Most of the baby greens—the baby mesclun mix, the wasabi-like green wave mustard—cost $12 for 4 ounces, or $48 a pound. Red amaranth sprouts are the priciest, at $64 a pound.

Windfall is exponentially more expensive than its competitors. The next most-costly greens at the market, the wild arugula and baby mustard greens from Landis Farm, go for $24 a pound. Across the way, at Catskill Merino Sheep, even free-range lamb loin chops don't break the $30-a-pound barrier. By comparison, at Whole Foods Market, a 5-ounce box of Satur Farms mesclun mix goes for about $5.29. Across the country, at San Francisco's fiercely competitive Ferry Plaza Farmers Market, the popular Marin Roots Farm sells its pea shoots for $9 a pound.
Windfall's owner, Morse Pitts, estimates that two-thirds of his customers are home cooks who've sampled other options at the market and know that his are distinctly flavorful. Buyers also appreciate the ability to create a gorgeous salad simply by emptying the contents of one of Windfall's tidy zip-close bags into a bowl—no washing necessary. And, of course, some people are just excited to brag about how much they spent.
Chefs, who care about return on investment, have deemed Windfall worth it. Jean-Georges Vongerichten, who recently opened the all-vegetarian AbcV near Union Square, is a high-profile client. George Mendes, of the Portuguese-inspired New York restaurants Aldea and Lupulo, likes the sweet borage leaves, which Windfall helped introduce to U.S. plates. Alex Stupak of Empellón claims the arugula is "the spiciest in the market." That bright sharpness comes in part from the freshness. Windfall's 142-acre farm is only 66 miles from New York—most of its competitors are hours away, where real estate prices are more congenial to farming.
"Windfall greens are the tastiest. They're also perfect," says Jeremiah Stone, who co-owns the popular tasting menu spot Contra and neighboring wine bar Wildair. "The prices seem insane, but actually most of the product is really light, so you get a lot. Other farmers make fun of Windfall—their produce is so precious and clean—but then they'll sell you carrots with lots of dirt on them and still charge you a lot."

In this rarefied farm-to-table era, $56 salads may seem like an inevitability. Arable land near cities is constantly being turned into suburban development—a drive around the Hamptons in Long Island will reveal hundreds of acres of luxury neighborhoods that were farms only a decade ago. And yet the overall cost of produce at farmers markets has ticked up only modestly. Most farmers try to keep their prices competitive. The costlier items are specialty ingredients, such as radish flowers or heirloom radicchio, that attract chefs and other avid cooks.
Windfall's pricing is an outlier. The produce's freshness and cleanliness raise its cost, and good seeds are expensive. And then there's the labor. "We try to pay people $15 an hour," says Pitt, which means that "our profit margins are basically zero."
The national average hourly wage for a farmworker is $10.52, according to PayScale Inc., and Pitt says it's a struggle to get to $15. Windfall houses some of its workers, and it doesn't use pesticides or herbicides, so employees have to pull weeds by hand and examine them closely. "The greens are carefully and individually hand-cut. You have to cut them right at the stem or the leaves rot," he says. It's incredibly labor-intensive: "We have more people working on those plants than at other farms." Pitt jokes that his goal is to make $15 an hour himself, too.

It's possible to use these ingredients as flavor accents without breaking the budget. Contra's Stone buys the farm's juicy wood sorrel to lend a tart edge to a dish such as poached white asparagus, which he cooks with ginger butter as part of a $74 tasting menu. But even he will stop short of buying Windfall's micro mesclun salad, which is also $48 a pound—too expensive for a garnish.
"Customers pay no attention to it," he says. "They push it out of the way or eat it without thinking. It's not worth it to our bottom line."
Some enterprising chefs have come up with an alternate way to combat pricey greens. San Francisco chef Matthew Accarrino couldn't find greens that justified their price tag, so he decided to grow his own. Now, in partnership with Jacobsen Orchard in Napa Valley, Accarrino grows much of the produce that supplies his SPQR restaurant. There's no need for consumers ask how much they cost: The farm only supplies restaurants.
Before it's here, it's on the Bloomberg Terminal.
LEARN MORE