U.S. Supreme Court Hints at Late June Action on Trump Travel Ban
By
Second appeals court blocked president's travel ban this week

Administration seeking to let ban take effect immediately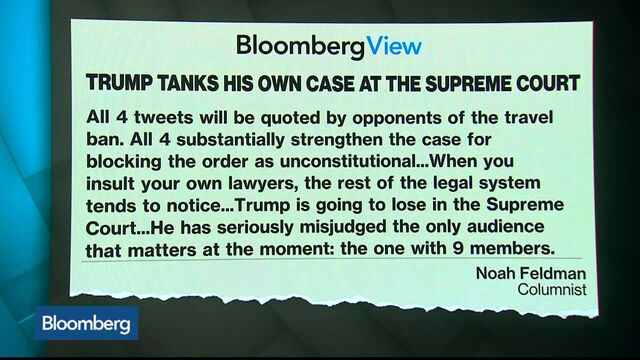 The U.S. Supreme Court laid out a new briefing schedule that would let it decide by the end of the month whether President Donald Trump's travel ban can take effect immediately.
The order came Tuesday after the administration indicated it will seek review of this week's appeals court ruling blocking the ban. The administration is already asking the high court to take up an earlier appeals court ruling against the policy, which would suspend entry into the U.S. by people from six mostly Muslim countries.
The scheduling order concerns the administration's bid to let the ban take effect right away. The order calls for briefing to be completed by June 21, the day before the justices are scheduled to meet in a private conference. During that meeting, they could decide whether to hear the administration's appeals and whether to let the ban go into effect in the interim.
Monday's ruling by a federal appeals court in San Francisco said Trump's executive order violated federal immigration law, which prohibits nationality-based discrimination and requires the president to follow a specific process when setting an annual cap on the admission of refugees.
An appeals court based in Richmond, Virginia, ruled on May 25 that Trump intended to discriminate against Muslims in his executive order.
Trump said in his earlier Supreme Court appeal that the policy "is not a so-called 'Muslim ban.'"
Before it's here, it's on the Bloomberg Terminal.
LEARN MORE