Trump Has No Plans to Fire Special Counsel, Spokeswoman Says
By , , and
Newsmax CEO Chris Ruddy said president weighing dismissal

Deputy attorney general asserts he alone has that authority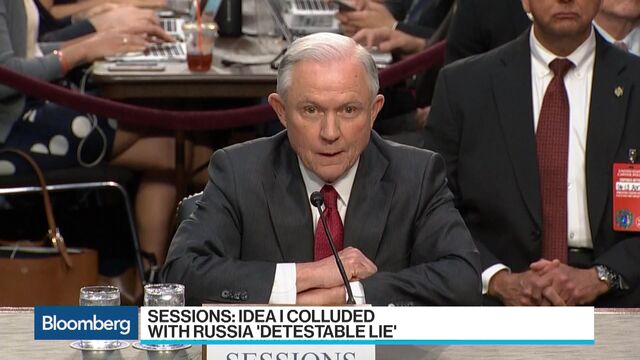 President Donald Trump doesn't plan to fire the special counsel investigating Russian meddling in the 2016 election, a White House spokeswoman said, rebutting assertions by a Trump friend in a television interview that the president was weighing a dismissal.
"While the president has the right to, he has no intention to do so," Trump spokeswoman Sarah Huckabee Sanders told reporters traveling aboard Air Force One on Tuesday.
Deputy Attorney General Rod Rosenstein told senators earlier in the day that only he, not the president, can fire the special counsel, former FBI Director Robert Mueller, and that he's done nothing to warrant dismissal.
Rosenstein told a Senate Appropriations subcommittee Tuesday there would need to be "good cause" to dismiss the special counsel.
"I appointed him. I stand by that decision," said Rosenstein. "I'm going to defend the integrity of that investigation."
Because Attorney General Jeff Sessions has recused himself from involvement in the Russia investigation, the duty would fall to Rosenstein, who appointed Mueller on May 17.
The question arose at the hearing after a friend of Trump said in television interviews that the president is weighing whether to fire Mueller. White House press secretary Sean Spicer said the friend, Newsmax.com Chief Executive Chris Ruddy, doesn't speak for the president but neither confirmed nor denied Trump was considering dismissing Mueller.
Read more: What Is and Isn't Special About a Special Counsel
House Speaker Paul Ryan said "there is no debate" about whether Trump should fire Mueller, and said it's in Trump's interest to let the probe continue.
"The best case for this president is to be vindicated," Ryan said at a news conference on Tuesday. Therefore, he said, the "best thing to do is to let Robert Mueller do his job."
"I know Bob Mueller and I have confidence in him," Ryan said.
Ruddy, who has known Trump for several years, said Tuesday that Mueller's appointment wasn't legitimate and that the attention given to the inquiry is crowding out the president's agenda.
"I think it's a consideration the president has had because Mueller is illegitimate as special counsel," Ruddy said on CNN's "New Day" program, when asked if Trump was thinking of firing Mueller. "There is no evidence of wrongdoing. There's no evidence of collusion. There's no evidence of obstruction."
Ruddy first raised the idea on Monday in an interview on PBS.
Spicer Adds Distance
"Mr. Ruddy never spoke to the president regarding this issue," Spicer said in an email. "With respect to this subject, only the president or his attorneys are authorized to comment."
Ruddy, in turn, criticized the White House communications operation, saying that Trump's aides have done a poor job delivering his message. 
The open warfare among Trump supporters comes as several of the president's confidants have tried to discredit Mueller or the multiple investigations into Russian meddling in the U.S. election and possible collusion by Trump associates.
Ruddy, who visited the White House on Monday, has continued to give media interviews despite being contradicted by Trump aides. In Tuesday's CNN interview, he described Spicer's statement as "bizarre" and took a jab at the embattled press secretary.
"Sean is again doing something a little unusual and different which is making a news story where one doesn't exist," Ruddy said.
Ruddy said Mueller shouldn't be involved in the investigation because he had a private conversation with Trump about becoming FBI director shortly before he was appointed special counsel.
Mueller's Ethics
"Don't you think it's a little unethical for him then to become the investigator against the president after having that private conversation?" he said.
Sometime-Trump adviser Newt Gingrich, who previously praised Mueller's selection as special counsel, also went on the offensive. The former House speaker, who said he spoke to Trump on Monday, attacked Mueller for hiring lawyers who had made political donations to Democrats. But he said he didn't expect Trump to fire Mueller.
"The president is actually pretty confident that ultimately this is all going to come out in the wash, and ultimately, he's still going to be president and this stuff's all going to go away," Gingrich said Tuesday on CBS's "CBS This Morning" program.
Rosenstein said that political donations wouldn't disqualify someone from working for the special counsel.
Ronna Romney McDaniel, the director of the Republican National Committee, said the entire investigation into potential collusion between the Trump campaign and Russia should be closed down because it was hampering the White House's policy agenda.
"What's taking so long? I think that's a fair question," she said on CNN's "New Day" program. "What is taking so long? If you have no evidence, conclude the investigation."
Before it's here, it's on the Bloomberg Terminal.
LEARN MORE