Photographer: Getty Images
Time Warner Cable Changes Its Name, and Suddenly People Love It
Now it's called Spectrum, and everyone is all rainbows and unicorns. What happened?
By
The commercial begins before dawn. A man rubs his eyes as he gets out of bed, peeking out the window at the cascading rain. He washes his face, pours a cup of coffee, and glances lovingly at his sleeping child before heading out. The only headlights on the highway are his own as he drives through the darkness. As the sun rises, he pulls his van into the driveway of someone else's house. The nature of this indefatigable man's work is finally revealed.
It's the cable guy.
And not just any cable guy: he's the Time Warner Cable guy. You know, the guy who is scheduled to show up anytime between 8 a.m. and 7 p.m., forcing you to work from home (if you even can) and never leave until he shows up. That guy.
Well, he's the Spectrum guy now. Acquired by Charter Communications Inc. in 2016, Time Warner Cable was officially rebranded earlier this year. The service has long carried a reputation of abysmal service, leaving hordes of dissatisfied customers frustrated with fee hikes, spotty connections, and the dreaded service call.
Now, tales of woe have become expressions of joy. There have been customer cord-cutting calls that ended with package deals at bargain prices, and chit-chat from Spectrum help desk operators bordering on the saccharine. But most prominently, the cable company has unleashed an advertising blitz to erase the Time Warner Cable name from the collective memory. One commercial features diligent workers laying down cable on the side of the road. Another follows harried parents who find comfort in their reliable internet service. And there's even one with a three-armed John Stamos using multiple devices in a posh home. A representative for Spectrum declined to comment on its marketing strategy, but even a makeover of New York City's beloved local cable news station, New York 1, seemed well received, though it came with some painful layoffs.
Before Spectrum took over, things had gotten bad for Time Warner Cable. Last summer, one state regulator sent a letter to Charter's chief executive, urging him to clean up the broadband provider's act. An investigation suggested that "Time Warner Cable has earned the miserable reputation it enjoys among consumers," Tim Wu, senior enforcement counsel and special adviser to the New York Attorney General Eric Schneiderman, told Charter CEO Tom Rutledge. "Overcoming this history will require more than a name change; it will require a fundamental revolution in how Time Warner Cable does business and treats its customers."
With Charter in charge and the corresponding branding shift, consumer perception headed skyward, according to data from researcher YouGov BrandIndex. Each weekday, the firm interviews 4,800 individuals from a representative panel of 1.8 million people.
Customer satisfaction spiked in the months after the transition was completed in January, reaching levels close to rival Verizon FiOS. Though now it seems that the immediate bump Spectrum experienced after the rebranding is fading. Just changing your name from Time Warner Cable may no longer be enough.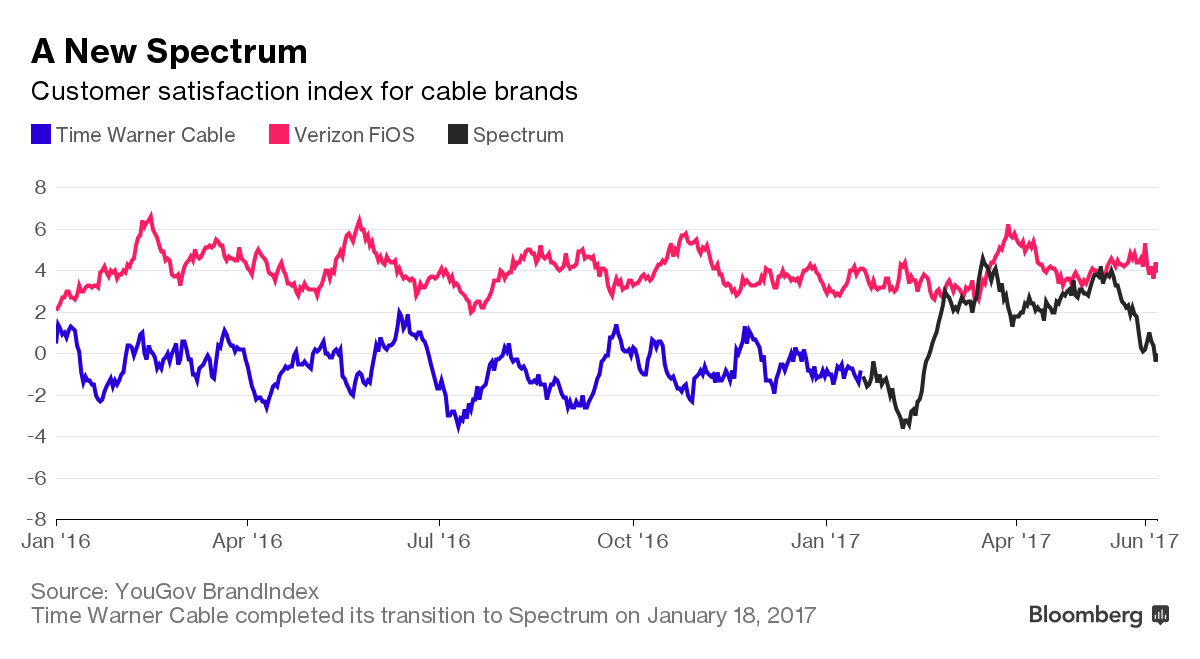 "There was a lot of baggage with the Time Warner Cable brand," said Ted Marzilli, CEO of BrandIndex. "With the acquisition, it gave them the opportunity for a bit of a fresh start."
Of course, Charter's extra effort also stems from an industry wide reality. Mounting pressure from such streaming services as Netflix Inc. and Hulu LLC is forcing the old cable companies to change, said Marzilli. All of a sudden, there are enticing alternatives, and if subscribers have had bad experiences with a cable provider, they're less reluctant to cut the cord.
It's unclear how much of the public actually knows that Spectrum used to be Time Warner Cable. A YouGov Omnibus survey in March showed that 53 percent of adults weren't aware that Time Warner Cable had changed its name. A chunk of those who did know, some 17 percent, said their opinion of the brand had improved following the switch.
Nevertheless, customer retention is a concern for Charter as it continues to integrate its businesses. Time Warner Cable's residential video customers fell 3.2 percent over the past year. Spectrum has stopped using the confusing package pricing Time Warner Cable once touted, trying to migrate legacy customers onto new plans. Some customers have received billing credits, too.
"It was a Turkish bazaar," Rutledge said of the old pricing at a conference in New York in May. Customers would call in and bargain, and sometimes they would score a good deal. Time Warner Cable was also fond of "exploding packages," he said, which would be discounted until a certain date–then boom, back to full-price. When customers saw big rate increases, they would get mad.
Even if it's just a rebranding, the Spectrum name change carries an inherent credibility boost because, one would assume, a new owner would want to improve the service's reputation. But in the end, it's still a cable company, and each time that modem light flickers or a channel freezes, subscriber wrath shall be felt.
"There is a lot of pent up frustration," said Marzilli.
Before it's here, it's on the Bloomberg Terminal.
LEARN MORE