Soros's Native Hungary Approves Crackdown on Foreign-Funded NGOs
By
Critics say the new regulation aims to stigmatize NGOs

Move comes amid EU concern over the rule of law in Hungary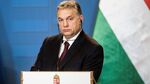 Hungary's parliament approved a law targeting foreign-funded non-governmental organizations, the latest step in Prime Minister Viktor Orban's self-described rollback of liberal democracy that has put him on a collision course with the European Union.
Lawmakers of Orban's ruling Fidesz party, which has a comfortable majority in the assembly, pushed through the law on Tuesday to create a special registry for "foreign-funded organizations." It affects those receiving more than 7.2 million forint ($26,000) a year from abroad, ordering them to declare their "foreign" status on their websites and in all press kits and publications.
The new rules are necessary because foreign-funded NGOs can "threaten the country's political and economic interests and interfere with the functioning of its institutions," according to the text of the law, authored by Gergely Gulyas, a Fidesz vice president.
The law is a further step in Orban's push to prevent what he calls foreign meddling in political matters by civil groups and institutions as he seeks to build Hungary into an "illiberal state" modeled on Russia and Turkey. The European Parliament last month approved a resolution saying Hungary poses a "clear risk of serious breach" of the rule of law and called for a procedure that may lead to the suspension of the eastern European country's voting rights in the trading bloc.
Tens of thousands of people protested in Budapest in April against the NGO law and another bill targeting Central European University, founded by Hungarian-born billionaire investor and philanthropist George Soros. Though the legislation doesn't name Soros, ruling party politicians first floated the idea of an NGO bill in January saying they wanted to "sweep out" organizations associated with the financier, including those that promote human rights and government transparency.
'Dangerous Path'
"The Hungarian government's public statements already stigmatize those who stand up for human rights and fundamental European values as serving foreign interests," Marta Pardavi, a co-chair of the Hungarian Helsinki Committee, said in a statement posted on the organization's website. The law "is a further slide down the dangerous path of closing civic space, something that has no place in a European democracy."
Orban has said the NGO bill would deter people from associating themselves with civil society groups, such as those sponsored by Soros, who he accused of trying to undermine the government's anti-immigration agenda. Hungary, Poland and the Czech Republic are facing an EU lawsuit for refusing to abide by a decision by the bloc's members to accept refugees based on national quotas.
Other countries have also targeted foreign-funded NGOs, sometimes singling out those supported by the Open Society Foundations, Soros's main conduit for aid in which he has spent more than $1.6 billion on developing democracy in eastern Europe and the former Soviet Union over the past 30 years.
Russian President Vladimir Putin's government banned the organization in 2015, saying that it threatened the country's security and constitution. Authorities in the former Soviet republic of Uzbekistan shut down the Open Society Foundations local office in 2004. In Israel, lawmakers passed a bill last year requiring foreign-funded NGOs to disclose the source of donations from abroad if such payments make up more than half of their funding.
The Hungarian law approved Tuesday made some concessions to objections raised by the Venice Commission, an independent advisory body on constitutional matters of the 47-nation Council of Europe. They include making NGOs eligible to shed their "foreign" status after going one year without financing from abroad, compared with the original three years, as well as removing any reference to the disbanding of NGOs that don't comply with the law. The Open Society Foundations said they were "cosmetic."
They haven't altered "the law's true intent," said Goran Buldioski, director of the Open Society Foundations in Europe. "It seeks to suppress democratic voices in Hungary just when the country needs them most. It attacks Hungarians who help fellow citizens challenge corruption and arbitrary power, and who stand up for free and independent media and for open debate."
Before it's here, it's on the Bloomberg Terminal.
LEARN MORE