Senators Slam Tillerson for Proposed State Department Cuts
By
Budget 'a devastating assault' on U.S. interests and values

Congress will work out its own budget, Republican Corker says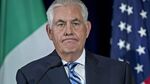 Secretary of State Rex Tillerson faced withering criticism from senators of both parties over President Donald Trump's proposal to slash his agency's budget by about 28 percent, with lawmakers saying in a day of hearings there was no chance the cuts would be allowed to pass.
At the opening of Tillerson's testimony Tuesday to the Senate Foreign Relations Committee, its two top members, Republican Bob Corker of Tennessee and Democrat Ben Cardin of Maryland, made clear the hearing would be just as much a debate about Trump's foreign-policy decisions as about the line items in the budget itself.
"I'm deeply concerned with the direction that President Trump appears to intend to take the country and the world," Cardin said. He called the State Department budget plan "nothing less than a devastating assault on American interests and values."
The fiscal 2018 federal budget that Trump proposed seeks $37.6 billion for the State Department, the U.S. Agency for International Development and other overseas assistance. Only the Environmental Protection Agency would face a steeper cut, at 29.6 percent from the 2016 level. Tillerson said he wants to work with Congress but underscored that the administration had to make "hard choices" as it goes about addressing a post-9/11 world and makes security its top priority.
"Our budget will never determine our ability to be effective -- our people will," Tillerson said at an afternoon hearing before a Senate Appropriations subcommittee. He said the department's mission remains guided by longstanding values of freedom, democracy and liberty.
Few Lawmakers
On a busy day at the Capitol full of hearings, perhaps the most significant marker of lawmakers' attitude toward Tillerson's budget proposal was the fact that so few of them stuck around to hear him speak. After an hour of the morning session, only two of 10 Democrats remained in the hearing room.
Senators criticized Tillerson for cuts to efforts such as promoting democracy and combating human trafficking. They also asked about specific steps the State Department has taken on various issues, including famine in Africa.
"The terrorists hate the idea that the Americans show up with some food and education," Senator Lindsey Graham, a South Carolina Republican, told Tillerson as he reeled off a list of global hot spots where the U.S. is involved. "You da man. You going to do all that and cut the budget by 29 percent? Thank you for coming."
Tillerson also detailed some of his plans to reorganize the State Department. He said he plans to cut the number of civil servants and foreign-service officers by about 8 percent by the end of fiscal 2018.
Leadership Vacuum
Democrats questioned whether the U.S. is abdicating its leadership in the world. Senator Chris Murphy of Connecticut, speaking at the Foreign Relations Committee, asked whether other countries should make plans to rely on the U.S. less as they set their priorities.
"America has been leading for a very long time, and the American people have been reaching into their pockets to pay for that leadership for a very long time," Tillerson said. "We're not going to set the burden down, we're not going to walk away."
He faced questions on the slow pace of hiring staff at the department. Most senior jobs and ambassadorships remain unfilled, and foreign diplomats say that in the absence of State Department officials, they were dealing directly with the White House and National Security Council.
Tillerson said his office is at about the "50 percent mark" in identifying candidates for senior jobs but that hiring was being slowed by the need to conduct background checks and complete financial paperwork.
Before it's here, it's on the Bloomberg Terminal.
LEARN MORE