business
Schaeuble Warns of 'Economic Disaster' With Euro Risk-Sharing
By , , , and
Mutual risk without policy levers is 'wrong construction'

Greek bonds rise as Schaeuble says he sees deal on aid tranche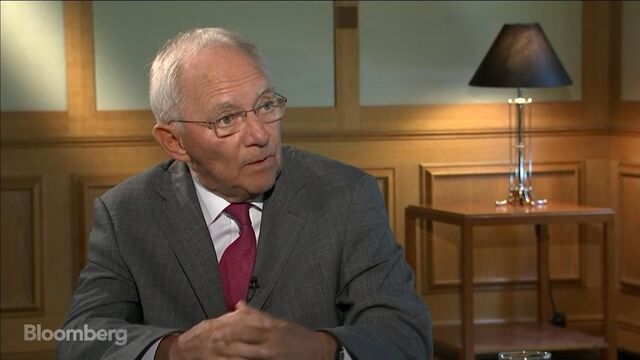 German Finance Minister Wolfgang Schaeuble said "economic disaster" would threaten the euro area if financial risk were shared without having joint policy-making tools in place.
"If you separate the risk-taking from the decision competence, you get bad results," Schaeuble said in a Bloomberg interview on Tuesday. "This is an old economic lesson -- you must never forget it."
Chancellor Angela Merkel's government has been wary of measures such as pooling sovereign debt since the currency union's debt crisis spread from Greece in 2010 and led to a series of bailouts. Greek bond yields fell after Schaeuble said he expects creditors to reach an agreement this week that will free the next installment of aid for Greece.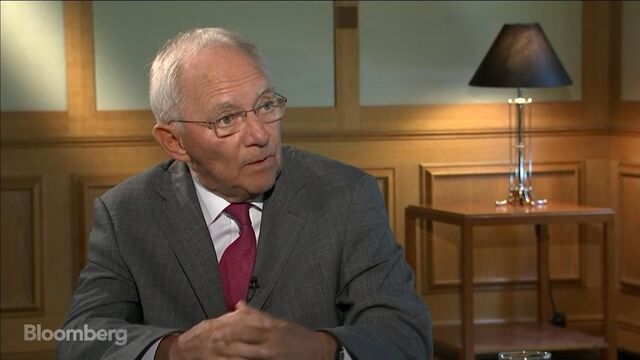 Even as Schaeuble held out the prospect of working with French President Emmanuel Macron to tighten the EU's governance, the unyielding comments by the euro area's longest-serving finance minister underscore the challenges in moving the European Union forward as the U.K. heads for the exit.
"If you have common risks without common decisions, it is the wrong construction and you will end in economic disaster," Schaeuble said in the interview. Spreading risk is only possible "if we have the instruments to implement these common decisions."
Europe has a "good opportunity" to move forward with institutional reform after last month's French election lifted Macron to power on a pro-EU platform, and Germany will work with him to make the EU's decision-making process more dynamic, Schaeuble said.
Fed, ECB
Taking up an election-year theme for his and Merkel's Christian Democrats, Schaeuble called on central banks to end "ultra-loose" monetary policy, which he blamed for fueling "undue risk-taking, policy complacency, capital mis-allocation and asset-price bubbles."
"The Federal Reserve has already begun this process and even the ECB has made some communications that you could feel that, in a medium-term time, they will continue to think about -- in this direction," Schaeuble said in English at the Bloomberg Germany G-20 Day conference in Berlin. "It's not easy for the ECB, with all due respect."
Asked about the prospect of a German succeeding ECB President Mario Draghi in 2019, the minister said such speculation "is not only superfluous, but also damaging."
Greek Bonds
Two days before euro-area finance ministers meet to discuss Greece's progress on fulfilling its bailout terms and further debt relief measures, Schaeuble said he expects an accord. The Greek 2-year bond yield fell 15 basis points to 4.98 percent on the news, the lowest level since April 2010. "We'll get there on Thursday, you'll see," Schaeuble said.
Schaeuble, 74, Germany's longest-serving lawmaker, and finance minister since 2009, said that while Merkel and Macron raised the possibility of changing EU treaties to ease integration, such a move isn't likely in the near future as governments balk at putting EU issues to referendums.
For example, calls to create a euro-area finance minister make no sense unless such a figure had sufficient powers, he said. In the meantime, inter-governmental agreements will be necessary to move forward.
Relations with the U.S. under President Donald Trump have become "a little more difficult and complicated," though there's a distinction between Trump's proclamations "in short messages and Twitter and so on" and U.S. policy substance, Schaeuble said.
He declined to comment on his impression of the relationship between Trump and Treasury Secretary Steven Mnuchin, but said he had a constructive relationship with his U.S. counterpart.
"The cooperation on the level of finance ministers, between Steven and myself, is very trustful," Schaeuble said. "We have a lot of contacts and we have good relations."
— With assistance by Sotiris Nikas
Before it's here, it's on the Bloomberg Terminal.
LEARN MORE