Ivanka Trump Seeks to Duck Deposition in Suede Sandal Suit
By and
Aquazzura claims Trump copied its 'Wild Thing' woman's shoe

'There's no doubt that Ms. Trump has a second job,' judge says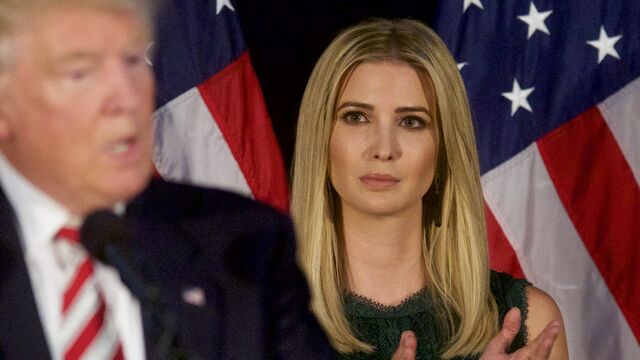 Ivanka Trump is trying to get out of answering questions in a lawsuit claiming her company ripped off the shoe design of a rival.
Aquazzura Italia SRL claims the president's daughter and Marc Fisher Holdings LLC, which partnered with Trump to launch her shoe brand in 2011, copied its pricey "Wild Thing" sandal in designing the Ivanka Trump "Hettie" model. Aquazzura sued Trump, her company, IT Collection LLC, and Marc Fisher Holdings in Manhattan federal court last year.

"We are having trouble scheduling Ivanka Trump's deposition," Aquazzura lawyer John Margiotta complained to U.S. District Judge Katherine Forrest in a telephone hearing on Tuesday. "On Friday, we were notified that they are not in fact willing to produce Ms. Trump at all."
Trump's lawyer said she shouldn't be forced to testify because she doesn't have any relevant information about the shoes, which are sold with her name stamped on them.
"She was not involved in the design, promotion or sale of the shoe," said her lawyer, Darren Saunders, in a court hearing. Instead Trump looks at examples of the finished shoes and decides whether to approve them, he said.
'Intimately Involved'
But Margiotta argued that Ivanka Trump's public statements suggest she is "intimately involved in the design of each of her shoes." "She's quoted all over talking about controlling her brand and her name," he said.
Forrest said she will rule next week whether Ivanka Trump must answer the lawyers' questions under oath. The judge said she hopes the parties can find a way to limit the questioning by first taking testimony from Abigail Klem, president of the Ivanka Trump brand.
"There's no doubt that Ms. Trump has a second job right now," Forrest told the lawyers.
Ivanka Trump announced in January that she was handing day-to-day management of her brand to Klem, her top lieutenant. The closely held company licenses Trump's name to a $100 million clothing line made by G-III Apparel Group and to Marc Fisher for shoes.
Ivanka Trump has transferred company assets to a new trust overseen by relatives of her husband, Jared Kushner, while retaining ownership and receiving payouts.
Cheaper Knockoff
Aquazzura claims Trump and Fisher intentionally designed the Hettie as a low-cost knockoff of Wild Thing, an Italian-made open-toed red suede sandal with four-inch heels, a fringed strap over the toes and ankle ties adorned with "flirty" tassels. Wild Thing sells for $785.
The Ivanka Trump Hettie also featured a fringed strap and tasseled ankle ties. It retailed for around $130.
The Aquazzura suit is just one controversy Marc Fisher and Ivanka Trump's brand are facing.
In the months after the election of Donald Trump, some stores such as Nordstrom, Neiman Marcus and ShopStyle started dropping Ivanka Trump-brand products. Nordstrom cited poor sales. Anti-Trump activists called for boycotts of her products, and the president tweeted that his daughter was being treated "so unfairly."
The labor practices of Ivanka Trump's brand have come under fire too. China Labor Watch said it has investigated conditions at 15 factories making products for the Ivanka Trump brand in the past year and found employees were forced to work at least 12 1/2 hours a day for wages below China's legal minimum. Three activists were detained last month while looking into labor conditions at supplier Huajian Group in the southeastern province of Jiangxi. 
Marc Fisher Footwear, which makes Ivanka Trump shoes under license, has said it was looking into the allegations outlined by the group in April. Huajian, the supplier at the center of the controversy, denied it underpaid workers or that laborers were forced to work excessive hours.
The case is Aquazzura Italia SRL v. Trump, 16-cv-04782, U.S. District Court, Southern District of New York (Manhattan).
Before it's here, it's on the Bloomberg Terminal.
LEARN MORE