Ex-NBA Star Dennis Rodman Heading Back to North Korea
By
Former basketballer to arrive in Pyongyang Tuesday, CNN says

Would be at least fifth trip for Rodman to isolated nation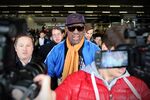 Dennis Rodman is taking his "basketball diplomacy" back to North Korea.
The former NBA star, who is in the rare position of being an acquaintance of President Donald Trump and North Korean leader Kim Jong Un, tweeted Tuesday that he was heading back to Pyongyang, adding that he'd discuss his trip on his return to the U.S. CNN, citing two North Korean officials it didn't identify, said Rodman was due to land in Pyongyang on Tuesday after spotting him at Beijing's international airport.
A White House spokesman declined to comment on the visit. Under Secretary of State for Political Affairs Thomas Shannon told reporters in Tokyo that Rodman was a private citizen and the State Department was aware of the trip.
Rodman told reporters at the airport that he was going to North Korea to open a door, according to the Associated Press. He added that he believed Trump was happy with his visit but he wasn't going there to talk to Kim about several Americans detained in the country.
In a separate tweet, Rodman said "I'm Back," and thanked PotCoin.com, a cryptocurrency for legalized marijuana that he said is sponsoring the trip.
Rodman's trip is at least his fifth to North Korea, according to the NK News website. His visits generate publicity while appearing largely as a sideshow to the political negotiations between countries like the U.S., China, Japan, Russia and South Korea over the reclusive regime. Analysts said they doubted Rodman was acting as a back channel conduit to Kim for U.S. President Donald Trump.
"I don't think he is taking any message to Kim," Andrei Lankov, a historian at Kookmin University in Seoul, said by phone. "I would be very surprised if it's anything other than a private citizen making a visit. It seems he visits North Korea regularly because Kim seems to be fond of him."
Still, his latest foray comes amid heightened tensions between Washington and Pyongyang over a series of missile tests in defiance of United Nations sanctions, as North Korea seeks to develop a rocket capable of carrying a nuclear warhead to the U.S. mainland.
'Big Bang'
He was accompanied by a British film crew on some previous trips and the result, "Dennis Rodman's Big Bang in Pyongyang," was released in 2015. In February 2013, when North Korea conducted its third nuclear test, Kim invited Rodman to watch a basketball game.
Rodman appeared Trump's "The Apprentice" show, and the pair have had an up-and-down relationship. In a slew of tweets in 2013 and 2014, Trump poked fun at the former basketballer's trips to Pyongyang, writing in April 2013: "The only American who has met with the North Korean man child is Dennis Rodman. Isn't that frightening and sad?"
Even so, Rodman endorsed Trump for president in a tweet in 2015, calling him a "great friend for many years."
In a May interview, Trump told Bloomberg News that he'd meet Kim if the circumstances were right. "If it would be appropriate for me to meet with him, I would absolutely, I would be honored to do it," the president said.
— With assistance by Justin Sink, and Isabel Reynolds
Before it's here, it's on the Bloomberg Terminal.
LEARN MORE