Brexit
End of U.K. Austerity Looms After Voters Reject May
By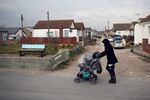 Theresa May's electoral disaster last week didn't just upend her Brexit plans. Her Conservatives are also going to need an alternative to their austerity-first economic policy.
Accelerating inflation and a weakening pound are squeezing consumers, stoking frustration with spending cuts that have been the heart of Tories' domestic policy since they took over in 2010 after the financial crisis.
The pressure was highlighted Tuesday as the Office of National Statistics reported that inflation reached the fastest in four years last month, accelerating to 2.9 percent. Growth in gross domestic product slowed to 0.2 percent in the first quarter.

"It's quite possible that the new government will commit to a less aggressive path of deficit reduction," according to Bloomberg Intelligence economist Dan Hanson. "It would not only be politically savvy, but also give the economy a much-needed boost, potentially helping to offset the downside risks to GDP growth presented by the Brexit negotiations."
The slowdown has already started to put pressure on public finances through weaker value-added tax receipts. Bank of England Governor Mark Carney has said households face a "challenging time" this year, as wages fail to keep up with rising prices. Data Wednesday are expected to show real earnings fell 0.4 percent in the three months through April, the biggest drop for more than 2 1/2 years.
Households are likely to be more sensitive to further welfare cuts as their wages are squeezed, according to Lena Komileva, an economist at G Plus Economics. That bodes badly for an economy reliant on consumer spending and could exacerbate the easing in consumer spending seen so far this year—a trend largely responsible for the U.K. being the laggard among Group of Seven nations in the first quarter.
"Faster inflation and the squeeze on weaker wages growth will make consumers more sensitive to the effects of a loss of momentum in the housing market—never a good signal for sentiment—and further public welfare austerity in the shape of budget rationing for the NHS, social care and at-work benefits," according to Komileva.

The Conservatives' pledge to erase the budget deficit by 2025 is unlikely to be achieved without raising taxes or damaging public services, the independent Institute for Fiscal Studies says. While campaigning, May told a nurse who hadn't had a real pay rise in eight years that while she plans to increase spending on health, "there isn't a magic money tree that we can shake that suddenly provides for everything people want."

At a meeting Monday night where she apologized to Conservative lawmakers who lost their majority, May acknowledged that voters are weary of austerity, especially in the public sector, according to a person familiar with the matter.
Labour's Jeremy Corbyn made a promise to boost funding for the state-run National Health Service a key part of his campaign.

Critics including Danny Blanchflower, a Dartmouth professor and former Bank of England policy maker, say the government should borrow more at the low rates available to it. Ten-year gilt yields are near 1 percent now, down from almost 4 percent when Labour vacated 10 Downing Street seven years ago.
"It's time to recalibrate," he says.
Before it's here, it's on the Bloomberg Terminal.
LEARN MORE