China Revises EV Credit Points to Reward Longer-Range Models
Bloomberg News
Chinese regulator releases lastest draft of NEV credit system

Battery electric vehicles with longer range earn more credits
China tweaked a proposed formula for calculating credits for electric-car makers to reward models with longer ranges, while leaving unchanged some regulations that foreign automakers had objected to.
Under the new formula, a multiplier is applied so that electric cars with longer range receive more credit points while shorter-range models receive less than the previous proposal, according to the latest draft of a credit trading system for new-energy vehicles by the Ministry of Industry and Information Technology. Cars with a range of 350 km (217 miles) or more continue to get the maximum of 5 credit points.
The revised regulations come after initial feedback from carmakers that the targets were overly ambitious. China is proposing to implement a system that would penalize manufacturers for failing to meet fleet emission targets and allow others that exceeded the requirements to sell them, a policy modeled after California's cap-and-trade framework for the auto industry.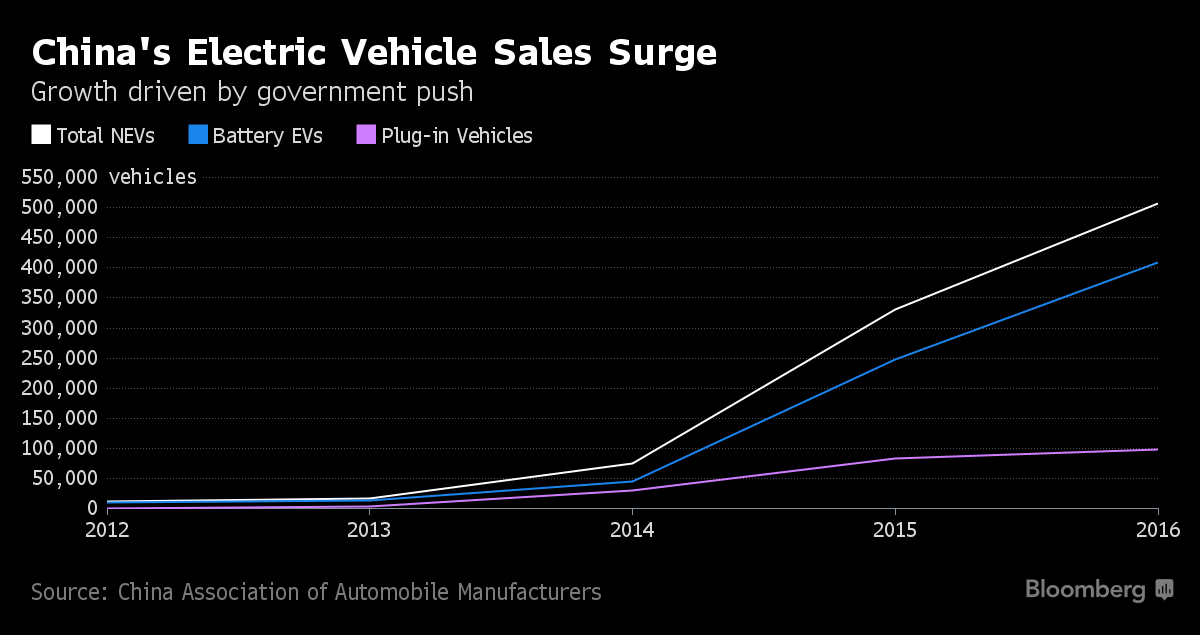 The regulators kept the proposed start date of 2018, despite the industry minister saying in March that the government was considering delaying the implementation or dialing back some of the measures. Automakers will also be required to obtain a new-energy vehicle credit score of at least 8 percent next year under the new draft, unchanged from the previous version.
Carmakers should be given at least 24 months to meet the new standards given the long time needed to develop new products in the auto industry, the European Union Chamber of Commerce in China said in a statement. Foreign automakers should also be eligible for various government incentives for new-energy vehicles, including for imported models, the business group said.
Representatives at Daimler AG, Volkswagen AG and BMW AG also said they couldn't comment immediately on the latest proposals.
BYD Surges
BYD Co., China's biggest electric vehicle manufacturer, would earn higher points for its E5 and Song dynasty EV300 models under the new proposed formula, while its E6 model will receive the maximum points with its 400-km range. The Shenzhen-based company's shares surged the most since January 2016 in Hong Kong trading on Tuesday. A representative for BYD couldn't immediately comment on the proposals.
The cap-and-trade policy is part of a broader regulatory framework that China is putting in place to guide the development of what it calls energy-saving vehicles, a sector that it identified as a strategic emerging industry. The National Development and Reform Commission this week separately released an industry policy that required makers of conventional fossil-fuel burning vehicles to meet stringent criteria in order to qualify for capacity expansion.
The economic planning agency has also granted 15 permits allowing companies to produce only electric vehicles under a special program. It also allowed foreign automakers to set up a third joint venture if it made electric vehicles. At the same time, the finance ministry phased out consumer and manufacturer subsidies to force weaker players to exit the industry.
The state support helped China surpass the U.S. in 2015 to become the world's biggest market for new-energy vehicles -- comprising electric vehicles, plug-in hybrids and fuel-cell cars. A total of 507,000 such vehicles were sold last year in the country, according to the China Association of Automobile Manufacturers.
— With assistance by Yan Zhang, and Ying Tian
Quotes from this Article
Before it's here, it's on the Bloomberg Terminal.
LEARN MORE