Economists halt U.S. growth upgrades based on policy prospects

Early optimism fades as reform plans stall: Bloomberg poll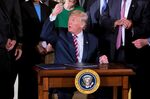 Optimism surrounding the economic boost from President Donald Trump's stimulus package is fading, at least according to one measure.
None of the 44 economists in the latest Bloomberg monthly survey reported boosting economic growth projections in the past month based on assumptions that the White House will achieve its policy promises, compared to 31 percent in March when the question was first asked.
Further, while a majority of respondents — 73 percent — said the last month's movement or lack thereof on the policy front had no impact on their growth forecasts, 27 percent said diminished enthusiasm for new policies prompted them to trim those projections. That's almost twice the share reported when Bloomberg first posed the question to economists in March.

Bloomberg changed the wording in the June survey, asking economists whether they'd revised their growth forecasts in the prior month based on a change in policy prospects, compared to a general change in their projections based on the probability that the Trump administration would achieve policy goals. That makes comparisons to the March survey more relevant than comparing to April and May.
The language change prompted Stephen Stanley, an economist at Amherst Pierpont Securities, to switch his survey response in June to "no change" in his forecast because he had only boosted his projection at the start of Trump's tenure — not as a result of events in the past month.  Stanley said he still thinks it's an "odds-on bet" that movement on tax reform will prompt a bigger boost in investment, though he hasn't penciled in a very large increase on that front. 
Economists at PNC are less upbeat and made a 180-degree turn from four months ago. The Pittsburgh-based bank has a diminished view of the economic outlook based on developments in the past month that could affect policy achievements, while they reported in March that they'd boosted their growth forecast for the same reason.
A combination of understaffed government agencies and a Congress that is slow to move on the policy wishes of the new administration mean that optimism around any economic boost from additional fiscal policy has faded. Surveys in the coming months should provide a cleaner test of whether economists are responding further to Washington's movements or gridlock by revising growth, for better or worse.
Before it's here, it's on the Bloomberg Terminal.
LEARN MORE