NSA Chief Meets in Secret With Senate Panel Ahead of Sessions
By and
Senators want to quiz Sessions on FBI chief Comey's testimony

Attorney general said to refuse discussing talks with Trump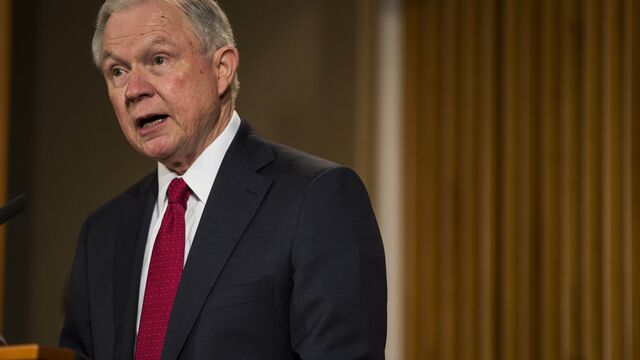 National Security Agency chief Mike Rogers met behind closed doors Monday night with the Senate Intelligence Committee, one day before Attorney General Jeff Sessions is expected to appear publicly before the panel to explain his role in the firing of James Comey and contacts that he and associates of President Donald Trump had with Russian officials.

Senators made clear they want Rogers to answer questions about any possible interference by Trump in the FBI's investigation into Russia's role in the 2016 election. He and Director of National Intelligence Dan Coats refused to answer those questions last week in a public hearing.
Asked if she hoped to get answers Rogers wasn't prepared to give in open session, Republican Senator Susan Collins of Maine said, "I certainly hope so." Coats didn't attend the Monday night meeting, according to a person familiar with the matter.
This comes a day before Sessions will testify publicly before the panel in a hastily scheduled hearing just days after the fired FBI director last week accused Trump of lying about his dismissal and pressuring him to end an investigation of former National Security Adviser Michael Flynn. 

In a sign of how damaging the administration considers Comey's testimony, Sessions volunteered to appear before the panel. Yet, in a move that could infuriate lawmakers, the attorney general has told the committee he will refuse to discuss his conversations with the president, according to a person familiar with Sessions's plan.  
Either way, the risks for Trump are high with Sessions, pitting the former senator's word against that of Comey, a career law enforcement officer known for standing firm against White House political pressure. Sessions arrives at the hearing bruised from his own admission that he misinformed Congress during his January confirmation hearing about meetings with Russian officials, and he'll have new revelations from Comey to contend with.
"Jeff Sessions certainly has more questions to answer that he didn't have before," said Jeffrey Cramer, a former federal prosecutor who handled cases involving obstruction of justice. "It's one more obstacle that this administration and DOJ have to overcome," he said, referring to the Department of Justice.
Asked if Sessions will claim that some of his conversations are subject to executive privilege and won't be shared with Congress, White House press secretary Sean Spicer said Monday, "I think it depends on the scope of the questions, and to get into a hypothetical at this point would be premature."
'Directly From Him'
Sessions, 70, hasn't returned to Congress since his confirmation hearing. On Tuesday, he'll face questions from senators from both parties about his role in firing Comey and whether he or Trump attempted to interfere with the probe into Russian meddling in last year's presidential election. That inquiry, from which Sessions has since recused himself, is now being overseen by special counsel Robert Mueller.
The attorney general "believes it is important for the American people to hear the truth directly from him and looks forward to answering the committee's questions tomorrow," Justice Department spokeswoman Sarah Isgur Flores said in a statement Monday.
Read More About the Twists and Turns in the Trump-Russia Probe
Trump called the sworn testimony by Comey "cowardly" on Twitter, but Republican senators largely praised Comey for his service and his detailed reconstruction of events.
Specifically, Trump rejected Comey's assertion that he demanded loyalty from the FBI director and that he asked him to back off the probe of Flynn. Senate Minority Leader Chuck Schumer laid out what he said were key questions he wants Sessions to answer, under oath.
Schumer's Four Questions
"First, did he interfere with the Russian investigation before he recused himself?" the New York senator said Sunday on CBS's "Face the Nation" program. "Second, what safeguards are there now so that he doesn't interfere? Third, it says he was involved in the firing of Comey, and the president said Comey was fired because of Russia. How does that fit" with recusal? he asked.
Schumer added that Sessions, who was involved in the selection of the new Federal Bureau of Investigation director, needs to say whether he spoke about the Russia investigation with the candidates he interviewed and whether that is consistent with his recusal as well.
And then there are the other key issues Comey surprised senators and the public with last week during his 2 1/2 hours of testimony.
Among the revelations was that there was something so concerning about Sessions that Comey and the FBI leadership team decided against informing the attorney general about all of the information at their disposal. Sessions hadn't recused himself from the Russia probe at that point, although Comey said he believed at the time that the attorney general would do so soon.
"We also were aware of facts that I can't discuss in an open setting that would make his continued engagement in a Russia-related investigation problematic," Comey said of the attorney general. Comey declined to provide details during the public hearing.
Focus on Sessions
After a closed session with Comey following last Thursday's hearing, members of the Senate panel said their investigation has a renewed focus on Sessions.
"The committee is going to be requesting documents and an interview with the attorney general, and there are some unanswered questions," Collins of Maine said Friday in an interview on MSNBC's "Morning Joe" program. "The attorney general clearly made the right decision in recusing himself from the Russian investigation."
Sessions's decision to step aside from the Russia probe frustrated the president, prompting the attorney general at one point to suggest he might resign, according to a person familiar with the matter. The White House declined for several days to say whether Trump retains confidence in Sessions, with spokeswoman Sarah Sanders finally saying June 8 that the president "absolutely" supports him.
Feb. 14 Meeting
In addition to clarifying his role in Comey's firing, lawmakers will want Sessions to recount what he remembers of a Feb. 14 meeting in the Oval Office, during which Comey said the attorney general and Trump's son-in-law, Jared Kushner, were asked to leave the room so the president could speak with his FBI director. At that meeting, a day after Flynn was fired, Comey said the president suggested that he ease up on the inquiry into his former national security adviser.
According to Comey, "He then said, 'I hope you can see your way clear to letting this go, to letting Flynn go. He is a good guy. I hope you can let this go.' I replied only that 'he is a good guy."'
Asked by Senate Intelligence Committee members how he interpreted that statement, which Trump denies, Comey said he took it as "direction" on what he should do.
And in a response that will be studied by legal experts and lawmakers for whether Trump sought to obstruct justice, Comey continued: "This is the president of the United States with me alone."
Comey's Firing
After the February meeting, Comey said he "took the opportunity to implore the attorney general to prevent any future direct communication between the president and me."
Sessions also will be pressed on whether he thinks that Trump's accusations that Comey liked under oath in his sworn statement to Congress means he should be investigated for perjury. There will also be queries about the shifting explanations for Comey's firing.
The White House initially pointed to a memo written by Deputy Attorney General Rod Rosenstein criticizing Comey's handling of the Hillary Clinton email probe last year as the reason for Comey's dismissal. Later, however, Trump said he had decided to dismiss Comey before the memo was written because of his handling of the Russia probe.
Sessions also is likely to be asked about Trump's choice to be the next FBI director, Christopher Wray, and whether the president demanded a loyalty pledge from him.
Sessions had originally been scheduled to make separate appearances Tuesday before subcommittees of the House and Senate Appropriations panels. Now, he is sending Rosenstein, his deputy, to those hearings instead.
Reshaping Justice
While the attorney general has stepped away from involvement in the Russia probe -- now headed by Mueller -- he has been dramatically reshaping the Justice Department and rolling back Obama administration policies. He's been ramping up the department's focus on prosecuting crime and drug use and emphasizing support for police across the country over allegations of police abuses.
That's a sign that even with the renewed scrutiny on the Comey-Russia crisis, the impact to Sessions's agenda and Justice Department operations could be minimal, said Andrew Kent, a law professor at Fordham University in New York.
"Sessions could still work pretty effectively, I would think, in advancing Trump's agenda, as long as it deals with Department of Justice policy changes," Kent said.
But with the Mueller investigation just getting started, the Russia inquiry is likely to loom over the administration for months to come.
"It becomes harder to believe that it's just a memory lapse every time there's another meeting or another phone call that happened," Kent said. "There's not a lot of good options for the Trump administration."
A number of Senate Democrats had called for Sessions to appear for questioning, and one member of the Intelligence Committee praised the decision to hold an open hearing.
"Vital. Public needs to now more about Sessions' Russia contacts & his role in Comey's firing," Democratic Senator Ron Wyden of Oregon said on Twitter Monday.
— With assistance by Justin Sink
Before it's here, it's on the Bloomberg Terminal.
LEARN MORE